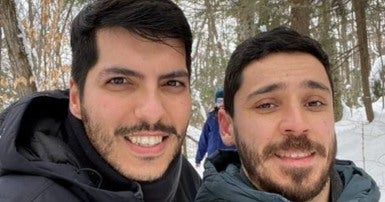 The partner of jailed CUPE 4600 member Cihan Erdal says solidarity, and sustained public attention and support, is what will bring him safely home from Turkey. Omer Ongun shared his call for support with members of CUPE's National Global Justice Committee, on day 29 of Erdal's unjust imprisonment.
Ongun is working to build a groundswell of public support for the Canadian government to help protect Erdal, who is a permanent resident in Canada, by taking up his case with the Turkish government and visiting him in prison. Sending messages to key Canadian officials here and in Turkey will keep his case in the public eye, and on the federal government's agenda, he said.
Erdal is a queer youth activist and Carleton PhD student who was arrested in Istanbul on September 25 along with 17 other academics, journalists and elected officials. Ongun described Erdal as "a kind and gentle soul" who is a dedicated peace activist and socialist.
Ongun said Erdal's arrest is linked to his involvement six years ago in the People's Democratic Party, Turkey's third largest political party.
"This is quite worrying for freedom of expression, political participation, young people's involvement in politics," Ongun told the committee. Erdal's research focuses on why young people get involved in social movements and what keeps them away. "This is exactly one of those experiences," he said.
Erdal and Ongun have been partners for a decade, but their same-sex relationship isn't recognized in Turkey, leaving Ongun cut off from any direct contact. "I will never be able to speak to or see him until he is released," he said. Ongun has been able to send messages and get updates through Erdal's parents. Ongun and Erdal weren't out to his parents, but the arrest changed that.
"I needed their support, so I came out, and they were very accepting," he told the committee. "When people are at their most vulnerable, I think that's when compassion starts to come out. Now, they see me as their third son."
Through Erdal's parents and his lawyer in Turkey, Ongun has heard that Erdal has started receiving some books and newspapers, and that he's feeling "a lot of respect and solidarity" from visiting school friends, supporters, academics and journalists.
Calls for Erdal's release are coming from many voices and groups across Canada and around the world. Ongun described the power of having such broad support, including from CUPE.
"Cihan always talked very highly of CUPE, and the unions in Canada. Unfortunately, in Turkey unions have been weakened. I think they are the first ones that authoritarian states target when they don't want people to be organized.
"Seeing a strong, dedicated team in CUPE and other unions, you just feel stronger when you're together… and that's the only way we're going to save him," Ongun told committee members.