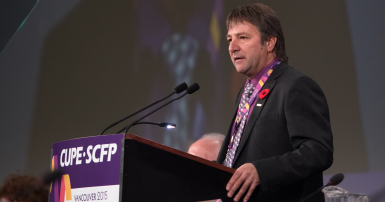 National Secretary-Treasurer Charles Fleury delivered a very positive speech at the national Convention in Vancouver. First, he reassured delegates about our organization's financial strength, despite a difficult environment.
This solid foundation reinforces the three different funds that CUPE places at the disposal of our union to ensure our ability to cope with our many challenges, such as attacks from governments and employers.
CUPE has continued to grow despite a drop in revenues caused by the tendency of employers to replace retirees by part-time or casual workers, when not simply outsourcing these jobs. "We need to fight this deliberate tactic, designed only to weaken us," said Fleury.
"To counter management's strategy of privatization, we need to increase recruitment, mobilization and political action," he added.
On the political level, CUPE will also ensure that the newly elected Liberal government complies with their campaign promise to repeal the anti-union Bill C-377.
According to Fleury, CUPE must continue to develop closer ties with its members, for example, with campaigns like the Unite for Fairness project.
On behalf of members, resources have been added in terms of both personnel and technological tools.
"In 2016, CUPE will learn to work more intelligently and strategically in order to use our resources where we will have the greatest impact," Fleury concluded.