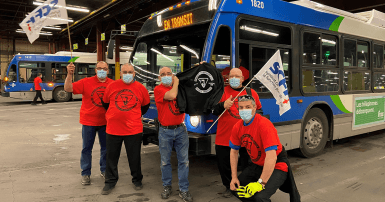 The lack of seriousness displayed by the Société de transport de Laval (STL) at the bargaining table has forced the union to announce that it will go out on strike on November 2, 15 and 16.
"We have been saying repeatedly that the employer is dismissive of our concerns. Unfortunately, this is totally in keeping with the image of STL's management whose mismanagement is jeopardizing the public transit services available to citizens of Laval. We are not keen on going out on strike, but we're doing so to safeguard the sustainable development of the city," explained Patrick Lafleur, president of CUPE 5959.
The union has launched an awareness campaign on the importance of public transit in Laval, which is called "Mobilisés pour la mobilité!" (Mobilized for Mobility).
The union, which already has a strike mandate that received 99 per cent support from a strike vote taken in January 2021, has run up against steadfast resistance of its demands by the STL, in spite of numerous concessions the union has made.
Union members have met with several candidates running for positions in the mayor's office and municipal council to make them aware of the fact that the STL is undermining the bargaining process.
"In 2021, public transit should be a priority for all cities the size of Laval. Sustainable development cannot occur without public transit," said Patrick Lafleur.