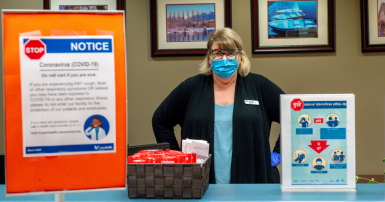 As a gatekeeper of public health during the pandemic, CUPE 4816 member Lauren Garayt has an appropriate, all-Canadian metaphor to sum up her role on the health care team: she's a "front-desk goalie," guarding her work space to prevent COVID-19 from "scoring".
The first point of contact for patients at the clinic where she works, Garayt is literally at the front of health care's front line. A receptionist for Burnaby Public Health, she assists with screening for appointments, determining where patients can wait and how many can be in a room at any given time. So her training during the COVID-19 pandemic has allowed her—like a hockey goaltender, deflecting pucks from all angles—to fend off potential risks to patients, medical staff and the general public.
"In the beginning, when we weren't wearing masks, we had people walking in who didn't know where to go for COVID testing—including people who had recently returned from travel abroad," recalls Garayt. "Some of these people had coughs or fevers and were walking in sick."
Before the pandemic's realities set in, the notion of staff wearing full protective gear may have been viewed as frightening. But as public education has evolved, staff and the public have become more comfortable—and reassured—to see the use of masks, gloves and gowns. Garayt also notes changes within the office such as using tape lines to ensure physical distance from the counter and limiting the number of chairs in the reception area to keep patients apart. Parents can still bring in their babies for weight checks, but there are new protocols in place to ensure additional sanitization.
"It's not only the people in the waiting room I have to protect, but the general public and the safety for staff including the nurses," she says, adding it's been helpful to use her "parenting skills" with firm guidance to reduce the number of people coming into the office.
"If they cough once or have any symptoms, we ask them to put on a mask, sanitize their hands and assist them to a separate room to be further assessed by a nurse. It helps to ease the tension of others in the room to see that precautions are being implemented."
Recalling the beginning of the pandemic and how her workplace prepared for a possible deluge of infections, Garayt expresses relief that things weren't a lot worse.
"It felt like getting ready for a battle. You could feel it coming but thank goodness we didn't get the wave we expected," she says. "But I'd rather be over-protective and have everything in place. When you see what's going on in the U.S., you become acutely aware that you'd rather be taking extra measures than not."
With 25 years' experience in health care—including work as a phlebotomy lab assistant, reception for vaccination and sleep apnea clinics, and a volunteer stint in a South India hospital—Garayt has seen it all. But COVID-19 has given her a deeper appreciation of collaboration across the health care system.