Robert Ramsay | CUPE Research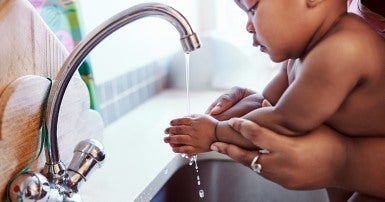 In March 2019, the federal government has lowered the maximum allowable lead concentration in drinking water, from .01 mg/liter to .005 mg/liter. This gives Canada one of the lowest lead content targets in the world. 
However, it has created issues for municipalities, some of which find that their drinking water no longer meets the national standard. This issue, which was highlighted in a study from late 2019, found that for one-third of Canadian households surveyed, the amount of lead in the tap water exceeded .005 mg/liter. It was widely reported in the press. 
In fact, nothing has changed about the safety and purity of municipal drinking water in Canada. Our cities and towns continue to enjoy one of the highest water safety standards in the world. Our tap water leaves the municipal processing plants lead free. But lead can still be found in the service lines of old homes and buildings – the old pipes that connect to the municipal system. 
Removing this last trace of lead will take a long time and require significant support from various levels of government. CUPE believes the federal government should provide financial support to municipalities to assist with service line replacement.