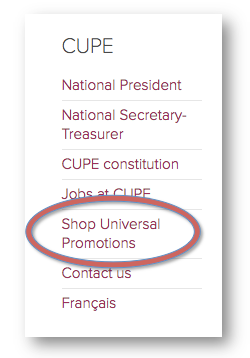 Order CUPE pride items including apparel, head wear, promotional and custom items for your local from Universal Promotions at myunionstore.com/cupe. 
Look for the direct link "Shop Universal Promotions" on cupe.ca at the bottom of every webpage. 
Make special requests for graphic design, screen-printing, pad printing, UV printing, embroidery, rotary engraving, laser engraving, and more. In the "For Your Local" section, they feature a gallery of popular items that can be customized for your local. If you are looking for something that isn't on the site, give them a call and they will find it for you. 
"With four offices across Canada, staffed with experts, we continue to provide the best service and advice in the industry. Whether you are planning an event, or looking for something different, we have the experience to help you bring your ideas to life, on time, and on budget." Service is provided in English and French.
Here's a few of the great items you can order online from Universal Promotions!