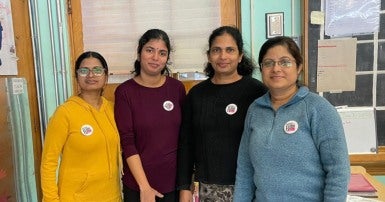 Early childhood educators (ECEs) and assistant teachers at Selwyn Community Childcare Centre have ratified a new four-year collective agreement. The tentative deal was reached on the final night of bargaining before a strike was set to begin following months of an impasse.
These early years professionals are members of CUPE Local 2484, Toronto's child care union representing more than 600 educators, cooks, and other workers at 28 centres. Staff at Selwyn were among the lowest paid, with some earning just $18 an hour when their previous contract expired.
"When we launched our 'Raising the Floor' campaign, it was precisely with these hardworking, talented, but grossly underpaid members in mind. $18 an hour isn't enough to live in this city, and it's a fraction of what these critical workers are worth," explained Erin Williams, an ECE and CUPE Local 2484 President. "We are fighting to raise the floor for the entire sector so every early years professional has a wage they can live on and a career with a future."
When Ontario signed on to the $10-a-day child care plan, parents breathed a sigh of relief at the promise of expanded access and affordability. The plan did not come with a commensurate focus on workers, though, and critics quickly pointed out the province could be short 8,500 ECEs by 2026.
"Doug Ford can promise a daycare spot for every family that wants one and they can unveil new training strategies, but who is going to work these jobs when the wages don't reflect the skill and education required to do them?" said Fred Hahn, President of CUPE Ontario. "When we invest in workers helping raise the next generation, we're investing in our collective future."
ECEs across the province average just three years in the profession. Many leave citing burn out and the need for higher wages. That common pattern was playing out at Selwyn where workers were forced to take on second jobs. To create the kind of conditions necessary for workers and children to thrive, they waged a coordinated campaign, soliciting support from parents and allies in the labour movement.
Their efforts resulted in an 18 per cent raise over the life of the contract. Workers also secured additional sick days, paid professional development time, and an increase in programming time so they can create the type of play-based learning opportunities that enable all children to thrive.
"Workers at 16 other centres in Toronto are entering bargaining, and thousands of new workers are joining the field across the province," said Williams. "The campaign these workers waged is a model that will be copied, showing that you can't put children first if you put their workers last."