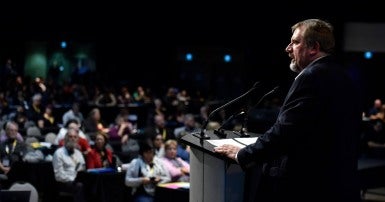 One thousand CUPE activists met in Winnipeg October 17-20 for the National Sector Council Conference. Delegates from across the country shared the experiences of their local with other leaders in their sector. "Members looked at the campaigns that have won support for the public services CUPE members deliver. They took the opportunity to talk about the challenges they face, and to learn from each other about how to overcome them," said CUPE National President Mark Hancock.
While the theme of the conference was Organizing for Success, there were presentations on building coalitions, organizing, pensions and discussions on ways to best use our collective agreements to end workplace violence and harassment. Members were also invited to highlight the advantages CUPE offers potential members in their sectors of work.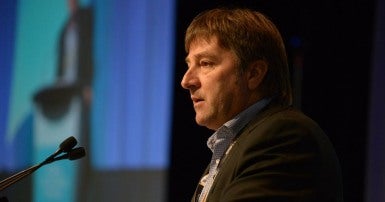 "We have one particularly powerful tool that we can use to better the lives of Canadian workers," said Brother Hancock. "The best tool to fight for equality, to stop the spread of precarious work, to improve wages and make sure workers have a safe workplace is organizing the unorganized to get them a collective agreement and the best union – CUPE."
Delegates left the Sector Council Conference with new ideas to fight back against cuts to the public services they deliver, and inspiration to defend and improve their collective agreements.
"Your work every day, and your involvement here, show that you are committed to improving the lives of our members and all Canadian workers," CUPE National Secretary-Treasurer Charles Fleury told delegates at the end of the conference. "Because of what we accomplished together in Winnipeg, CUPE will be stronger and better equipped to make Canada better."