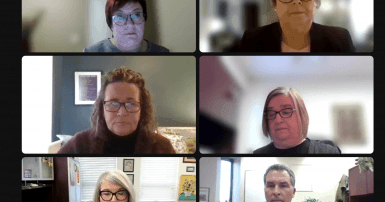 Today, CUPE Saskatchewan joined with other public sector unions representing more than 113,000 Saskatchewan workers to collectively call on the Government of Saskatchewan and Premier Scott Moe to immediately mandate the recommendations of the province's Chief Medical Health Officer Dr. Saqib Shahab.
"Everyday, frontline workers are putting themselves at risk for all of us and this government is failing to protect them. The stress and uncertainty are impacting hundreds of workers in our schools, hospitals, long-term care facilities, childcare centres, and group homes and addiction treatment centers," said CUPE Saskatchewan President Judy Henley. "My message to Premier Moe is respect frontline workers and do better."
At a news conference on January 12, 2022, Dr. Shahab made strong recommendations as a result of the high number of COVID-19 cases and the rising number of hospitalizations. Consequently, a number of organizations are calling on the government to implement these measures in an effort to slow the community spread of the virus and protect vital services and programs. Dr. Shahab's recommendations include:
Limit gathering sizes to a maximum of 10 people.
Limit the frequency of gatherings and establish a consistent "bubble."
Limit non-school and non-work contacts.
Limit non-essential travel between communities.
The Saskatchewan government's failure to implement these recommendations as public health orders is leading to rampant community spread that is putting unprecedented strain on services Saskatchewan citizens rely on every day, including health care, education and community-based supports.
Each member organization is being inundated with calls from members who are experiencing firsthand the impact of a lack of appropriate public health measures. Across sectors, frontline workers are reporting burnout and staffing shortages. They are operating in crisis mode and systems are not functioning as intended or designed, creating significant safety concerns. Concerns for health, safety and access to vital services are also growing beyond frontline workers; an Angus Reid poll released earlier this week found almost 59 percent of Saskatchewan residents are unhappy with Premier Moe's handling of the pandemic.
As Omicron has not yet peaked, failure to mitigate the spread will cause unnecessary harm and disruption to public services. We urge Premier Moe to act in the interest of protecting Saskatchewan residents' health, safety and access to vital services.