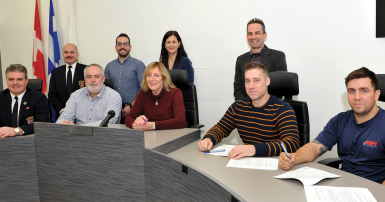 Firefighters with the Town of Sainte-Adèle in the Laurentians have signed a new collective agreement.
At a general meeting held on November 14, 96% of the members ratified the tentative agreement reached with the town.
The completely revamped 7-year contract runs until December 31, 2027 and includes annual wage hikes of 2.25% for 2021 and 2.69% for 2022. Wages for 2023 to 2025 are pegged to the increase in the Consumer Price Index (CPI) and shall be no less than 2% and a maximum of 4%. The corresponding CPI-matched figures for 2026 and 2027 are a minimum of 2% and cap of 6% for each year.
Employees also obtained a substantial addition of on-call hours at the station and improvements to external duty premiums based on the rates in the collective agreement for 2021 and 2022. Progressive increases of between 5% and 8% will be adjusted for subsequent years.
As soon as the agreement is signed, retroactive wage enhancemeents of 6% shall be applied to the duty premium for all employees, including three full-time workers.
"After 18 months of intense talks, we can say mission accomplished. We were able to negotiate clauses that improve our members' wages and working conditions. The people in Sainte-Adèle will be even better served. Everyone's a winner," says CUPE representative Maxime Valade.