Colleen Butler | CUPE Staff
CUPE's National Executive Board (NEB) created the Safe Union Spaces Working Group (SUSWG) in March 2021. The working group, made up of the women members of the NEB, was formed in response to serious misconduct in our union.  
Since the release of its first interim report last spring, the SUSWG has continued its work to transform how CUPE addresses sexual and gender-based violence and other forms of harassment and discrimination in union spaces.  
The interim report was based on the results of membership surveys, focus groups, and listening sessions. It found that there are CUPE members who do not participate in the union because they do not feel safe.  
"What we heard was members — especially women and especially members of equity-deserving groups — feel and experience harassment and discrimination in CUPE," says Karen Ranalletta, CUPE Regional Vice-President for British Columbia and the Yukon and member of the working group. "It was not a surprise to many of us. But it was still damning. And culturally, in our union, we don't talk about it out loud that much. That needs to change." 
"When those who are most hurt by discrimination are coming forward to their union sisters, brothers, and friends to find support and find solutions, we have to mobilize and be responsive," adds CUPE Regional Vice-President for Manitoba and working group member Gina McKay. "These are the ways that we will build a movement to unite CUPE members across Canada."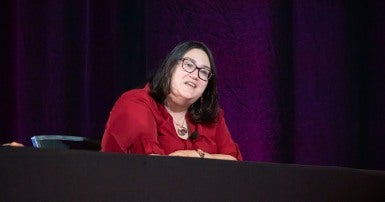 To create this culture shift, the report identified several steps to prevent and respond to violence, harassment, and discrimination in CUPE. These include changes to education courses, the introduction of bystander and anti-oppression training, and reviews of CUPE's complaint process, trial procedure, and ombudsperson program, among other initiatives. 
The working group started to roll out these initiatives at CUPE events this fall and held a panel at October's Sector Council Conference in Ottawa, updating members on their work. Conference delegates also participated in bystander intervention training as part of the Safe Union Spaces mandate. The session, led by CUPE's Education Branch, taught members how to spot harassing behaviour and feel more confident intervening to stop it.  
Safe Union Spaces work continued in November at CUPE's National All Committees Meeting in Vancouver, where participants received training on restorative justice practices. National committee members learned how restorative processes can build capacity for labour action and developed reflective listening skills. The SUSWG is currently looking at ways to integrate restorative practices and mediation into CUPE complaint resolution processes.
With right-wing attacks against the labour movement ramping up, all CUPE members need to feel safe, welcome, and able to participate in the work of the union. As National Secretary-Treasurer and working group co-chair Candace Rennick points out, every CUPE member has a role to play in ensuring this happens. "Shifting our culture — making our union safe for all — is a collective responsibility," says Rennick. "We all have to do the work. We are a progressive union, and a strong union. But we can be better."  
The SUSWG encourages all CUPE members to educate themselves and to take action against violence and harassment in union spaces. The working group also invites locals to take part in Safe Union Spaces pilot projects launching soon.