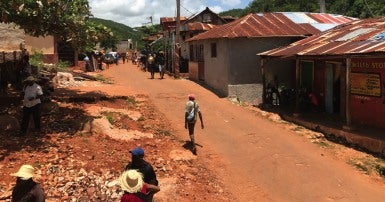 If the violence of war and economic inequality continue to increase, people will continue to push back. If people's economic and social conditions continue to decline, we can only expect resistance movements to grow and become stronger. We are already seeing evidence of this in the streets and in workplaces around the globe, from France to Gaza, and, from the US to Brazil.
We are living in uncertain times. Yet, in this uncertainty, there remains hope. Workers, activists and their families are finding creative and courageous ways to continue to fight for the society we want to live in.
Public services, the redistribution of wealth, democracy, justice and peace, are fair and righteous demands that we must work together to realize.
Through the Global Justice Fund and our relationships with workers around the world, we support and engage with strong trade unions and social movement organizations who are courageously organizing the most oppressed and marginalized among us. The consequences of economic policy rooted in unfettered capitalism affects us all. Our struggle as workers is a shared struggle for justice and dignity around the world.
Through project funding, CUPE members have opportunities to build relationships with workers all over the world. We want to connect with movements that demand decent jobs, living wages, and safe workplaces. We want to work alongside those movements that fight for access to public services and land rights. We engage with movements that oppose violence and war.
If your local is interested in supporting the CUPE National Global Justice Fund and our international solidarity initiatives, please visit cupe.ca/globaljustice, or contact our International Solidarity officer, Kelti Cameron at kcameron@cupe.ca.