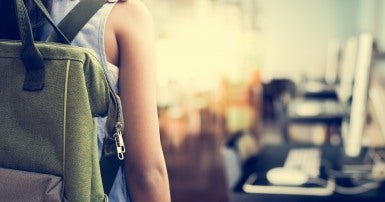 Protecting vital services students and families depend on in the Richmond School District must be the priority in tackling budget shortfalls, says the union representing Richmond public school workers. CUPE 716 says the district budget shouldn't be balanced at the expense of workers and the students they serve.
"Our top priority is ensuring our students have clean and healthy schools where they can get the educations they need to thrive and succeed," says Ian Hillman, a Richmond school support worker and president of CUPE 716. "We recognize the budget challenges the District is facing, but some of the cuts being chosen don't put the needs of students first. There are other choices that don't hurt students that could be made."
The current 2022/23 budget being considered by School District #38 would see the layoff of over 15 school support workers that provide vital services to students that are not provided anywhere else. Proposed cuts would threaten students' access to school libraires, particularly over lunch hours. The cuts will also greatly reduce career information services, that help students map out their future educations to reach life-long career goals.
"Shouldn't we be encouraging students who want to spend their time in libraries, and helping give them every advantage in pursuing their goals and dreams? These services need to be a priority. There are other choices," says Hillman.
For example, Hillman points out that district trustees gave themselves pay raises, senior administration positions are getting significant wage increases totalling $375,000 in the proposed budget, including a $70,000 increase for the top administration job in the district. The school district also has a $6,300,000 rainy-day fund that could be used for short-term budget relief to protect services for students.
"We recognize the School District is in a difficult position, and we will continue to work with them in finding long-term sustainable solutions. But cutting services students depend on, and the laying off of the dedicated workers that provide them, is short-sighted and ill-conceived," says Hillman. "We urge the school district to reconsider."