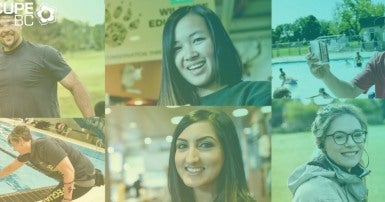 Summer is here, and after months of the COVID-19 public health crisis, all British Columbians deserve some much-needed play and recreation. With the province cautiously moving forward, many are welcoming the reopening of public recreation centres and public pools.
"We've seen a huge surge in users in just the first couple weeks. You can really tell people missed these services," says Darlene Worthylake, president of CUPE 458, representing recreation workers in the Fraser Valley. "Our members are confident in the safety protocols put in place and are thrilled to be back offering programs and services."
With the guidance of the BC government's Restart Plan, recreation and aquatic services provided by CUPE members have been reopening across the province, including:
"Our members are eager to serve their community again," says Gord Willis, president of CUPE 386, representing recreation workers in Coquitlam. "They are going help make this a great summer after all."
But despite these and many other communities that have started to safely reopen rec centres and pools – and the many private, for-profit fitness centres and gyms also reopening - many other local governments are stalling, leaving tens of thousands of British Columbians without access to affordable recreation.
"If some local governments can find a safe way to reopen rec centres and pools - and with so much private recreation open for business - why can't all communities resume these valued programs and services? It just doesn't make sense," says Paul Faoro, president of CUPE BC. "Far too many seniors, low-income families, persons with disabilities, and other community members that don't have access to private, for-profit recreation are being left without any affordable and accessible recreation."
CUPE BC launched a campaign effort to get more public parks, recreation centres and public pools opened for the summer. All British Columbians are encouraged to visit betterservicesbettercommunities.ca to send a message to their municipal governments that exercise and play shouldn't be limited to those who pay, and that everyone in BC deserves recreation this summer.