Despite a highly engaged citizenry and effective local campaigns for social and economic justice, CUPE's partners in Colombia have reissued their call for international support in light of ongoing crises exacerbated by the COVID-19 pandemic—including the murder of labour activists and Indigenous leaders, and continuing threats of violence against those who resist unfettered corporate access to the South American country's rich natural resources.
"Spotlight on Colombia," a recent webinar hosted by CoDevelopment Canada (CoDev) and attended by CUPE National President Mark Hancock and members of CUPE BC's International Solidarity committee, focussed on the current situation in the coastal seaport city of Buenaventura, where three years ago a 22-day civic strike drew the entire community's support with mass demonstrations. The strike forced the Colombian government to negotiate an agreement to provide critical public services that would serve the entire community, 80 per cent of whose inhabitants are Black and more than 90 per cent of whom live at or below the poverty line.
Organizers agreed to suspend the strike in exchange for a list of demands that included safe drinking water and basic sanitation infrastructure, health care coverage for medical procedures and traditional medicine, access to quality public education, justice and reparations for victims of the conflict, and a community consultation process for land use planning. Despite some initial progress, President Iván Duque Márquez has stalled on his government's commitments and used the pandemic to ram through development projects that displace local populations and harm the environment, while serving only the interests of global capital. Meanwhile, state intimidation and the murder of activists continue unchecked, along with the insidious influence of organized crime as drug gangs and right-wing paramilitary forces fight for control of lucrative smuggling and drug export operations.
Inspiring with courage, solidarity
In his welcoming remarks to webinar participants and guest panel members attending from Colombia, Hancock praised the people of Buenaventura for their courage and solidarity in the face of state and corporate threats. The CUPE National president, who visited Colombia with a CUPE delegation last year, recalled how five Indigenous leaders were murdered by members of a paramilitary group on the evening before he was to meet with Indigenous leaders in the province of Cauca. The next day, when he arrived in the community where the slaughter had taken place, he witnessed how more than 600 people had responded to the outrage by breaking into discussion groups to decide on a course of action.
"What I witnessed that day was tremendous courage in the face of tragedy that inspires me to this day," said Hancock. "Such courage proved that, even in our darkest days, we have each other. We can organize, and we can keep fighting."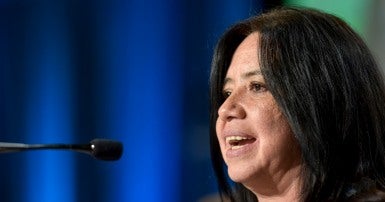 Berenice Celeita, President of the human rights organization NOMADESC, told webinar attendees that the stressful living conditions of poverty that have long existed in Colombia due to structural causes of conflict, inequality and social injustice, have only been amplified by the pandemic.
"The extractivist model of economic development affects Colombia and the whole world," she said. "Colombia is still one of those countries where the multinationals keep exploiting our national resources: gold, water, oil. But since COVID-19, it's gotten worse. The people in control are taking advantage of the pandemic to take extraordinary measures."
Such measures include doubling down on murder and assassination. Between the peace agreement in 2016 and August 21 of this year, 1,000 social leaders and human rights defenders have been assassinated—194 thus far in 2020, said Celeita, herself the subject of numerous death threats over the years. Overall, 282 people have been killed in 71 massacres that have occurred this year alone, including five children in Cali.
In late October, death threats were issued against the leadership of Colombia's teachers' federation FECODE and the President of Colombia's main trade union federation, the CUT. The threats included the delivery of a funeral wreath to the home of a member of the federation's national executive committee and the publication of false obituaries for the 16 leaders. During the webinar, CoDev shared a link to the Labourstart website, where Canadians can send a message urging the Colombian government to take protective measures to ensure the safety of these labour leaders.
COVID-19 opportunism at work
Since the global pandemic was declared in March, a similar pattern of state and corporate behaviour has been evident throughout the region. "In countries like Mexico, Guatemala and Honduras, the same actors control the territory to generate a state of silence—and the pandemic has been part of that silence," said Celeita. During the pandemic, she noted, right-wing governments in Latin America have opportunistically used social distancing protocols and isolation to crush dissent and consolidate their power, to the benefit of their corporate clients.
During 200 days of lockdown in Colombia, reported Celeita, Duque Márquez issued 189 emergency degrees, mostly related to law and public order, specifically police and army control of state territory. Another 59 decrees empowered the banks to generate money for the big companies. Human rights activists have responded with a series of actions denouncing these measures. From June 25 through July 20, a series of dignity marches and rallies shed light on state crimes committed in campesino and black communities. On October 12, Indigenous communities from around the country began a week-long mass march (MInga) to the capital.
Colombian activists will be seeking international support to have peace declared a human right, said Celeita: "For us, it's really important that the peace agreements, and the Buenaventura civic strike agreement, are respected."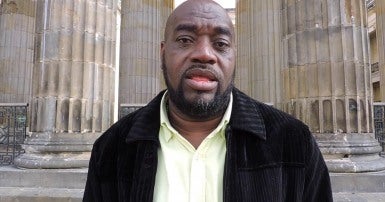 One of the most prominent activists during the Buenaventura civic action was strike committee spokesman Victor Hugo Vidal. Joining the webinar panel discussion from Buenaventura, Vidal—elected mayor following the strike—described his city as a barometer for all of Colombia—thanks mostly to the character of its people in resisting oppression.
"The civic strike was an effort by many ethnic and popular organizations to share our collective dreams," said Vidal. "There are advantages being the mayor. As a public administrator, I have worked as a facilitator to help the strike agreements become reality. But it's a challenge as well, because this is also an exercise of transformation—which is not easy because there has been a traditional relationship between public administration and many illegal practices in Colombia."
From 'client' to citizen advocacy
Vidal's efforts to help Buenaventura recover from half a century of poverty, and to shift the municipality's priorities from those of corporate clients to those of its citizens, have won him supporters—but also enemies. The mayor and his allies have received threats, rumours have spread aimed at destroying his reputation, and the municipal building has been bombed.
"To change the tradition—to go from serving clients to serving citizens, and transforming the logic that what's public is always corrupt—then we need to challenge the power," said Vidal.
Also on the panel were Vidal's fellow strike committee members Maria Miyela Riascos and Leyla Andrea Arroyo Muñoz from the community organization Black Community Process. Riascos, thanking CoDev and CUPE for their support of the struggle for social and economic justice, said the need for continued international solidarity has never been greater. Structural racism is a major factor in the neglect of entire neighbourhoods in Buenaventura, she said. While access to drinking water has been limited to just four or five hours a day for privileged neighbourhoods, some poorer areas have gone 15 days without water.
"The Colombian government is not respecting any agreement, so we need letters of support calling on them to do so," said Riascos. "Please take letters to your embassy so they can be sent to Colombia. And if you can send contacts to us, that can help us with development projects. We also need your help in organizing urgent actions so we can save lives."
Arroyo Muñoz noted that one crucial agreement coming out of the civic strike was a process for territorial management plans that includes prior consent by the communities affected.
"Those are collective rights given to us in terms of Black or Indigenous territory," said Arroyo Muñoz. "We have been able to stop a lot of licenses for mining exploration and other mineral extraction. We've been able to stop megaprojects related to the port and tourism."
URGENT CALL: CoDev is asking for Canadians to assist Honduran partner CODEMUH and the maquila worker organizers who lost their homes to this month's double hurricanes. You can donate through CoDev's "Giving Tuesday" campaign by visiting their donation page.
Interested in supporting public services, solidarity and labour rights in Latin America? CoDevelopment Canada works with CUPE to support labour and human rights partners in Latin America, and CoDev staff are members of CUPE 1004. Become a CoDev member today! To join, visit www.codev.org or call 604.708.1495.