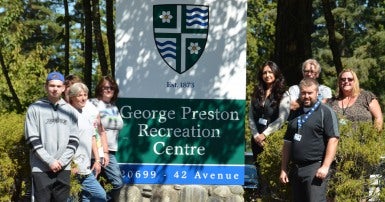 Water and wastewater are not the only services where the tide is turning on privatization. Recreation is another sector where CUPE members have been actively campaigning to bring work back in-house.
After more than 20 years of private, for-profit operation, CUPE 403 was able to work with the Township of Langley to bring two arenas back in-house. Since July 1, both the George Preston Recreation Centre and the Aldergrove Community Arena have been staffed by CUPE members.
For CUPE 403 member Jill Hansen, the move to once again have the arenas publicly owned and operated was especially significant. Hansen started working part-time for the Township in 1980 at the two arenas, where at first only full-time employees were unionized. Six months later, part-time employees were unionized as well thanks to the hard work of the executive at the time. Unfortunately, in 1998 the Township decided to contract out the arenas.
"We fought hard to keep the arenas public, but ultimately we weren't successful," says Hansen. "It was a bitter pill to swallow and at the time I don't think we fully understood what the implications would mean for the future. Over 18 years we saw the effects of privatization and I am very proud that this year we were able to bring arena operations back in-house."
Knowing that the contract between the Township and Recreation Excellence was set to expire at the end of June, the local decided to put forward a proposal to the employer to contract-in arena services.
"We had to work with the employer to reach an agreement we could both accept," says CUPE 403 President Debbie Whyte. "So the agreement is not ideal, but it's a starting place and we now offer increased services to our community. We also now have a service that is transparent and accountable, which is really important."
Community members with a 'Go Active' pass can now use it at both the George Preston Recreation Centre and the Aldergrove Community Arena. The Township, meanwhile, is planning to increase programming at both facilities. Residents can now also pay for municipal services such as taxes, dog licenses, and burning permits at George Preston Recreation Centre.