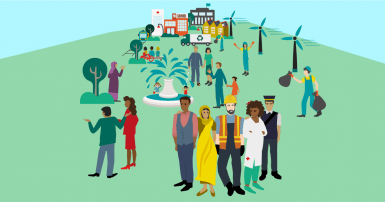 A new report highlights the growing global trend to end privatization and create new public services, documenting more than 830 case studies that span sectors and continents.
Reclaiming Public Services: How cities and citizens are turning back privatization tells stories of workers, public officials and members of social movements organizing to reclaim or create new public services that meet people's needs and deal with environmental challenges.
The report, published by the Transnational Institute, tracks over 830 examples since 2000. Most campaigns are local, involving more than 1,600 municipalities in 45 countries.
The report shines a spotlight on key regional and local successes, celebrating and learning from winning campaigns. People around the world are reclaiming public services from private operators to take back control, provide affordable services, end private sector abuse, protect labour rights, and tackle climate change.
Bringing services under public control, known as remunicipalization, is happening in communities of all sizes. Reclaiming Public Services tells the story of local victories that build efficient, democratic and affordable public services. More and more people and cities are closing the chapter on privatization, and putting public services back in public hands.
The findings are a boost for CUPE locals working to end privatization by contracting in public services in all sectors. The Canadian information in Reclaiming Public Services comes from the 2016 report Back in House. Back in House provides a snapshot of 15 recent success stories from the Canadian municipal sector. There are currently no comprehensive statistics on the full extent of remunicipalization in Canadian municipalities - or in other areas of the public sector such as health care and education.
Reclaiming Public Services is co-published by the Transnational Institute (TNI), CUPE, the Multinationals Observatory, the Austrian Federal Chamber of Labour (AK), the European Federation of Public Service Unions (EPSU), Ingeniería Sin Fronteras Cataluña (ISF), Public Services International (PSI), the Public Services International Research Unit (PSIRU), We Own It, Norwegian Union for Municipal and General Employees (Fagforbundet), and the Municipal Services Project (MSP).