Ronald Boisrond | CUPE Communications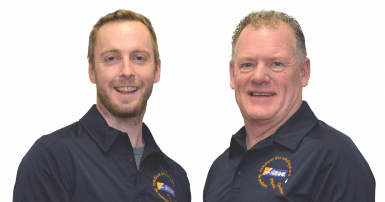 ​Powerline technicians Mario Ménard and Guy Desgagné are members of CUPE 1500, which represents workers at Hydro-Québec. The two men had a recent experience that they are not likely to forget.
During a snowstorm, earlier this year, while patrolling in their truck west of Montreal, they heard cries for help. They followed the sound of the cries and saw a mother and her two daughters standing on a ledge outside a second story window of a burning home. They called 911 and sprang into action. They convinced one person at a time to jump down from the window ledge into their arms.
Their heroic act made the headlines in several media outlets. Counterpoint wanted to learn more about these two heroes.
Mario Ménard has been a union leader for some time. But these days, he prefers to let union matters be handled by others whom he characterizes as "more diplomatic" than he is.
What motivates his activism? "Injustice," he answered immediately, "in society in general, but especially in the workplace." Although he is eligible for retirement, he has not yet decided when he will be ready to pass on the torch.
After training as a lineman, Ménard's young colleague, Guy Desgagné, worked for the SAQ (Quebec Liquor Board) for several years before being hired by Hydro-Québec just over a year ago. He is a young father and his wife is expecting their second child.
Like many CUPE members, both men have a deep love for their work as powerline technicians. The fact that they saved these three lives does not seem to have changed them; but, once they start talking about that day, their emotions rise to the surface. They insist that they just happened to be in the right place at the right time, "If we'd driven by a few minutes earlier or later, we wouldn't have heard their cries for help or seen the flames, which could have had tragic consequences for this family."