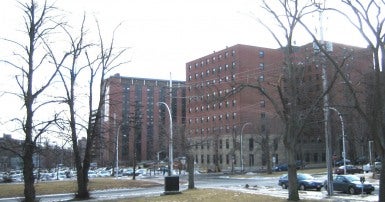 Despite promises to offer thank-you bonuses to the health care workers of the Nova Scotia Health public health care system, the cleaners working at the QEII have been told they don't qualify.
On March 20th, the Houston government announced a thank-you bonus for health care workers in Nova Scotia to honour their work during the pandemic and to improve retention. This bonus was promised to the workers of our publicly funded health care system.
CUPE 2761, which is made up of the Environmental Services workers of the QEII hospital, is responsible for the sanitation of the largest hospital in Atlantic Canada. In some cases, they have worked at the QEII for up to 43 years, tirelessly ensuring the hospital is clean and safe for decades and throughout the pandemic. Following the thank-you bonus announcement, however, they were told they don't qualify despite doing the same work as other cleaners within Nova Scotia Health (NSH).
The reason? NSH contracted out their positions to Crothall, a private company. Meaning, despite working at a publicly funded hospital, their employer, though funded by the Department of Health, is technically private. The government is using that loophole to exclude these workers from the thank-you bonus, arguing they are not publicly funded.
NSH has contradicted its own argument, however, by granting the thank-you bonus to other health care workers employed by private facilities. Health care workers employed by private long term care facilities, for example, received the bonus. The housekeepers working in the IWK also qualified for the bonus despite holding similar private positions for years that only shifted to public contracts in February.
"The Houston government shouldn't be picking and choosing which public health care workers get the thank-you bonuses," said CUPE Nova Scotia President Nan McFadgen. "If they work at a publicly funded hospital, performing the same duties as other workers employed directly by the NSH, they should be included. It's shameful that the cleaners working in the QEII were excluded in the first place."