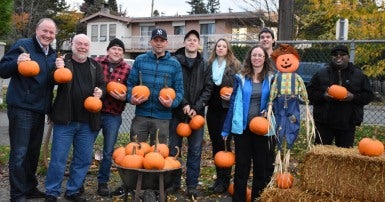 CUPE 23 (Burnaby civic employees) member Chris Revitt with his wife Daniella and three children started bringing a pumpkin patch to Burnaby children four years ago because the family wanted as many kids as possible to be able to have the experience of visiting a pumpkin patch. Thanks to ongoing support from CUPE 23 and additional support from CUPE 379 (K-12 support staff) and CUPE Metro, two additional schools were added into the festivities. Revitt and crew were able to set up pumpkin patches at Edmonds Elementary and Maywood Community School as well as Douglas Road Elementary and South Slope Elementary and BC School for the Deaf.
The pumpkin patches were set up on four separate days before Halloween. Despite the rain on some of the days, children were absolutely delighted with the bubble machine, music, popcorn and hot chocolate – and of course choosing their own pumpkin to either carve at school or take home for Halloween.
"Our members see the pumpkin patch event as an opportunity to give back to the community in which we work and where many of our members live," said CUPE 23 President Simon Challenger. "We volunteer for this event and the smiles on the children's faces are all the incentive we need to keep coming back."
At Edmonds school a young boy cavorting gleefully with his friend, was overheard to say, "This is the best day of my life ever!" Another young girl spoke aloud for the first time since school started, to say how much fun she was having. And in one class, 32 of the 35 kids were getting a pumpkin for the very first time.
Visit the CUPE BC gallery to view photos.