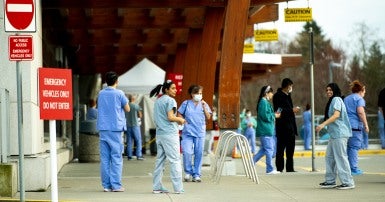 This excerpt is from an op-ed by CUPE National President Mark Hancock that was originally published in the Toronto Star on April 6, 2020.
With shops and stores shuttered, streets empty, and the country on lockdown, we are living through unprecedented and drastic measures to stop the spread of COVID-19.
For most of us, this global pandemic is bringing the importance of strong public services into sharp focus.
But some people will never pass up an opportunity to attack public sector workers. Already, right-wing columnists are calling on governments to send public sector workers to the unemployment lines until this outbreak is over. Just last weekend, Premier Jason Kenney issued pink slips to 26,000 education workers in Alberta.
This approach is flat-out wrong. No credible economist in Canada thinks putting people out of work during an emergency like this is helpful. And as we reach the third week of a crisis that could last months, our public service workers are proving their value.
While most of us are safe at home, public service workers are still going to work, risking their well-being to keep their communities safe, healthy, and running as close to "normal" as possible.
For the full op-ed, please click here.