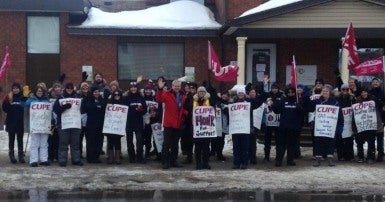 A provincial arbitrator's decision regarding a group of children's aid workers in Peel is good news for workers at Nipissing and Parry Sound Children's Aid Society (CAS).
The ruling, released last week, sets out clear directions for reducing caseloads among frontline CAS workers at Peel, making children's aid workers in the north more determined than ever to see their own workload concerns addressed.
"Now that a provincial arbitrator has ruled on workload for one group of CAS workers, Nipissing and Parry Sound CAS should stop stalling, end the lockout and deal with their employees' workload issues – properly and at the bargaining table," said Fran Bélanger, national representative for the Canadian Union of Public Employees (CUPE).
The children's aid society locked out its unionized employees on December 23, after workers turned down a deal that failed to tackle the excessive caseloads that put vulnerable children and youth at risk of "falling through the cracks."
A three-month strike in Peel was settled in December, after Peel Children's Aid Society agreed to binding arbitration. In a decision handed down last week, the arbitrator's award restricts the number of new cases assigned each month for one group; and reduces existing caseloads caps for three groups of workers.
CUPE 2049 has no provisions in its collective agreement with Nipissing and Parry Sound CAS for addressing excessive workloads, whereas the arbitrator has made improvements to safeguards already in place for workers at Peel CAS.
Sonia Yung, president of CUPE 4914, which represents workers at Peel CAS, told media that she expected the arbitrator's decision will mean "workers will be able to spend a little bit more time with their clients and their families."
"A provincial arbitrator has ruled that the number of cases carried by Peel CAS workers has to be managed and has to come down," said Debbie Hill, president of CUPE Local 2049. "We hope this news will translate into a new recognition that workers at Nipissing and Peel children's aid – and the families we serve – also need protection from the effects of too many cases, too few staff, and employee burnout."