Stella Yeadon | CUPE Staff
Craig Saunders | CUPE Staff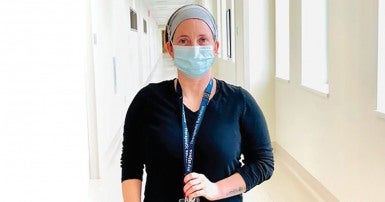 Between them, registered practical nurses (RPNs) Answilla Joseph and Sonja Bernhard have nearly 50 years of experience in nursing. But, even for these two seasoned RPNs, the last two years of pandemic-related workloads, health and safety risks and understaffing have left them battle-fatigued and ready to pack it in.
It is not solely the challenges of pandemic work they point to as the reason pushing them over the edge. Rather, they describe a seething frustration that is rooted in the disrespect they think is behind the Progressive Conservative government. It is a government that brought in a pre-pandemic wage cap law (Bill 124) and pandemic emergency orders that usurped contracts and interfered with collective bargaining. 
Joseph and Bernhard aren't alone. This anger over PC government disrespect is shared by many of the tens of thousands of Ontario's health care staff.
Years of low wages and heavy workloads mean front-line health care workers in Ontario are leaving their jobs in record numbers.
Having endured one of the highest COVID-19 workforce infection and burnout rates in the world, Ontario's mostly female health care workforce "is completely demoralized by our working conditions and the increasing violence against us," says Bernhard. "On top of a provincial government that seems to want to demean us by offering inadequate pandemic pay premiums for some workers and not for others, they want to cut our wages under Bill 124."
Following yet another physical attack from a patient in early 2022, Bernhard gave up the full-time nursing position at Hamilton's St. Joseph's Healthcare that she held for 14 years, for a part-time job at the same hospital. She makes up for the lost income with more part-time work at a community college nursing program.
Wage cuts amid record-high inflation
By capping wages of most public sector workers at 1% under Bill 124, the Ontario PC's have cut real wages for people like Bernhard by 10% over the last two years, as inflation hit 7% – a 31-year high. The cap also limits bargaining for increased mental health protections that are sorely needed by health care workers, after years of pandemic trauma.
During 2021-2022, front-line staff in hospitals, long-term care and community health care have loudly and visibly told both the government and their employers across Ontario that they want Bill 124 scrapped, so they can bargain wages and improved pandemic and mental health benefits. 
Despite the burnout and exhaustion they have experienced during the pandemic, they are pushing back, mobilizing dozens of protests and workplace actions to repeal Bill 124.
Through their activism, health care's front-line workers earned widespread support from Ontarians and all three Ontario opposition parties.
In Ontario, CUPE represents more than 90,000 health care workers. Recent CUPE polling shows 81% of more than 2,500 Ontarians surveyed support scrapping the PC government's 1% wage cap, so that hospital workers can get a pay increase that at least matches inflation. Overwhelmingly, Ontarians said they want the province to stabilize staffing by making more of the jobs full-time and by increasing wages to retain staff. They believe this will help attract the additional 50,000 health care workers needed over the next few years to provide care to a growing and aging population.
"Surely the thanks we are getting from the Ontario government for caring for more sick hospital patients than ever before, and for fragile residents in understaffed long-term care homes in a pandemic, cannot be a wage cut," says Joseph, an RPN for more than 30 years.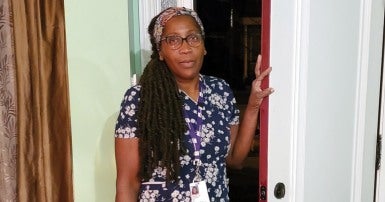 Like so many others in health care, over the last year, Joseph has frequently considered leaving her nursing job in the musculoskeletal and multisystem rehabilitation program at Toronto Rehabilitation Institute. It is something she never would have considered earlier in her career.
"Not being able to bargain additional mental health protections for front-line staff, who have worked through a pandemic, is nothing short of cruel," she says.
Deteriorating conditions that hurt patients and staff
Beginning in the summer of 2021, CUPE's Ontario Council of Hospital Unions (OCHU-CUPE), in coalition with SEIU Healthcare, began bargaining a new provincial contract for nearly 70,000 hospital workers. Negotiations hit a brick wall when the Ontario Hospital Association (OHA) tabled concessions, in addition to hiding behind the PC wage cap and their own refusal to negotiate meaningful protections related to the pandemic and rising violence against hospital staff.
Vacancies in hospitals are soaring as Bill 124 artificially suppresses their wages. Data shows that the hospital job vacancy rate has increased from 1.6% at the end of 2015 to 6.3% at the end of 2021.
Hospitals and nursing and residential care facilities now have more than 32,000 job vacancies. Add another 10,350 for ambulatory health care and the total is over 42,000 job vacancies. That is up from about 10,000 at the end of 2015, a fourfold increase.
Over 2020 and 2021, registered nurse vacancies more than doubled and registered practical nurse vacancies more than tripled. Nurse aide and orderly vacancies more than doubled. Other assisting occupations in support of health services saw vacancies more than quadruple.
"The Ford PC government's ongoing disrespect for the women working in health care is hurting our members and it is hurting the public," says Michael Hurley, president of CUPE's Ontario Council of Hospital Unions.
As OCHU-CUPE President Michael Hurley put it in a press conference on January 6, 2022, "we wouldn't have 45,000 health care staff catch COVID-19 at work, and 24 die, in Ontario alone, if they had been given access to adequate personal protective equipment. And instead of repealing a bill that is fuelling the pandemic staffing crisis, the PCs offer modest permanent pay increases for personal support workers (PSWs), and a one-time payment for nurses that is a fraction of the PSW increase, while excluding hundreds of thousands of other vital workers," Hurley deplores.
"This approach has satisfied no one working in health care. It has worsened morale and caused upheaval and demoralization in a sector that relies heavily on teamwork to provide high-quality patient and resident care," he emphasizes.
Stabilizing the health care workforce is now widely seen as a big problem for the Ford PC government. But their ideology and apparent stubborn commitment to a wage cap law, passed before the pandemic hit, is getting in the way of solving the problem.
"When you layer the wage cuts caused by Bill 124 on top of the failure to provide proper personal protective equipment during the pandemic and the backbreaking workloads that come from working in a hospital system with the fewest staff of any developed economy, many people are just giving up," says Sharon Richer, OCHU-CUPE secretary-treasurer.
"It isn't lost on them that you never see this kind of exploitation of male-dominated first responders like police or firefighters," denounces Sharon Richer, CUPE's Ontario Council of Hospital Unions secretary-treasurer.
"Bill 124 is sexist and demeaning to Ontario's predominantly female workforce. The PCs should be listening to the increasingly loud calls from the front lines to scrap it," she adds.
Job vacancy in long-term care up by 457% in 7 years
To make matters worse, Bill 124 only applies to Ontario's non-profit long-term care homes and retirement residences, capping staff wage increases to 1%. For-profit and municipal facilities are exempt from the legislation.
Two years into a pandemic, all long-term care workers have continued to support seniors, and they all deserve significant wage increases, not wage restraint.
"The PC's have, through Bill 124, penalized the workers and non-profit operators that had much better outcomes for residents during the pandemic. The majority of residents who died from COVID-19 were in for-profit homes," says Debra Maxfield, chair of the CUPE Ontario Health Care Workers' Coordinating Committee.
Indeed, for-profit long-term care homes had 7.3 COVID-19 deaths per 100 beds, while non-profit facilities had 3.8 deaths per 100 beds. This is likely linked to lower staffing levels found in for-profit long-term care when compared with non-profit homes.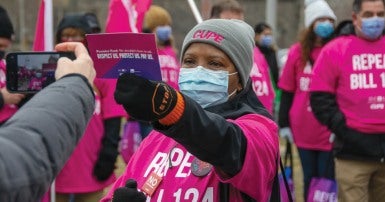 Along with a significant lack of resources, and retention and recruitment challenges, non-profit homes saw themselves unable to compete on general wage increases, overall compensation and additional wage adjustments with other health care operators, therefore losing skilled workers to other sectors.
The problem became so pronounced that at St. Joseph at Fleming, a non-profit home in Peterborough, front-line staff and the home's administrators banded together at several community rallies to tell the Ford government the wage cap under Bill 124 is disproportionately harming them and must be repealed.
This staffing crisis comes at a time when the need for long-term care workers will grow dramatically over the coming years.
The wage cap will make it difficult if not impossible to achieve the government's commitments of four hours of direct care per resident per day by 2024-2025, for which CUPE has fought so hard. It will also affect many of the Ford government's promised new long-term care beds – in fact they are choosing to allocate more than half of them to private, for-profit companies.
On June 2, 2022, Doug Ford's government was re-elected to a second four-year majority term.
"We can't go on like this. If we're going to have quality care in hospitals, retirement and long-term care homes, and in-home and community care, we need a government that respects health care workers, and their wages and working conditions. A government that strives, like us, to provide a higher level of care in public services," Maxfield insists.