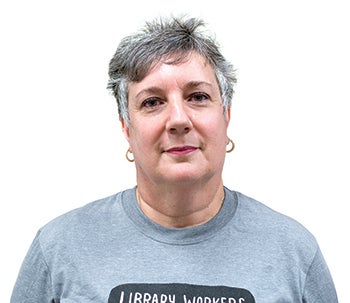 Kevin Wilson | CUPE Communications
It's an article of faith that when the library workers start marching, you know things are bad, and Maureen O'Reilly is somewhere near the front of the march.
"I was elected president of the library workers one month before Rob Ford was elected and lived to tell about it," quips Maureen O'Reilly President of the Toronto Public Library Workers Union, CUPE 4948.
Ford rode a wave of voter anger to become Toronto's Mayor in 2011, promising to stop the 'Gravy Train' of perceived overspending at Toronto City Hall. Ford and his brother Doug, who was elected Councillor in the same election, made it their mission to attack anyone who dared question their agenda of austerity.
O'Reilly, also co chairs CUPE's National Library Workers Committee and is Chair of the CUPE Ontario Library Workers Committee. She and the members she represents found them selves in Doug's crosshairs early.
After Doug Ford claimed his Ward had more libraries than it had Tim Hortons coffee shops, O'Reilly got some high powered support from the likes of Margaret Atwood and other Canadian authors, drawing attention to the importance of quality library services to at risk communities like the ones the Ford Brothers represent.
"If you believe strongly about the issues you're bringing forward, some times you have to take action," says O'Reilly.
With collective agreements up for renewal, CUPE 4948 is taking aim at the epidemic of precarious and part time employment in the sector. Currently, half of the local's membership can be classified as either precarious or part time.
"When Melvil Dewey was establishing the librarian profession, he said he was establishing a labour force of high moral character and low pay," says O'Reilly, adding that cash strapped municipalities often "consider library services to be a soft service and they always seem to be the first service municipalities think about cutting."
Four years ago, in the face of Ford Nation, O'Reilly and her members stood firm, resorting to strike action to push back the cuts demanded by Rob and Doug Ford and their sup porters. They pushed back the concessions and in the most challenging of environments, managed to achieve gains in bargaining.
And while the Ford Brothers no longer run the City of Toronto, O'Reilly is still going strong as president of CUPE 4948 and she's gearing up for another round of bargaining with John Tory as Mayor.