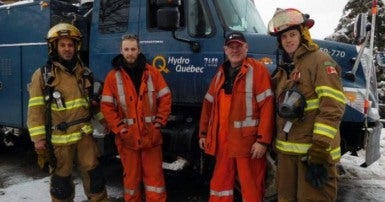 Powerline technicians at Hydro-Québec are greatly appreciated as public employees, especially when Mother Nature shows her force. Such was the case on Wednesday, January 4 in Hudson in the Montérégie region, where precipitation and wind threatened to bring tree branches down onto power lines, causing outages.
Two members of CUPE 1500, Mario Ménard and Guy Desgagné, were patrolling the area with their truck windows down so they could get a better look at the condition of the lines. Suddenly, they saw flames shooting out from a nearby two-storey house.
As they got closer, they could hear cries from inside the burning home. A child was screaming, "Help, help, we're going to die!"
When they parked their vehicle, adrenaline took over, and they raced toward the blaze. Leaning out a window on the second floor, they saw a woman and her two young daughters surrounded by flames but hesitant to jump.
Mario convinced the two girls, aged eight and ten, to leap from the window. The men caught them, saving them from injury. Unfortunately, the two Good Samaritans were unable to get the mother to the ground safely despite their best efforts, and she hurt her back in the fall. The severity of her injuries is unknown at this time.
Regardless, without the fast action of our two CUPE members, the entire family would have suffered serious burns or even lost their lives. The flames spread very quickly, and by the time firefighters arrived a few minutes later, the house had been reduced to charred remains.
Although reports of their selfless actions have gone viral in the media, our two linemen have been downplaying the event. "We're not heroes," protested Mario humbly. "We're just glad we happened to be going through that area."
To the father who rushed home on hearing about the fire, however, the two men are "angels" who saved his family!