In 2015, through our Union Development Department, CUPE offered 1,775 workshops, reaching nearly 24,000 CUPE members across regions and sectors.
A highlight of our new programs is a comprehensive new bargaining education program. Building Bargaining Power's 11 workshops have tools to support locals in all stages of the bargaining cycle, from pre-bargaining planning, to being at the table, to being ready if talks break down. With content for stewards, activists and the general membership, the workshops will help local executives, committee members and picket captains build their skills.

We continued to help members take on the issue of mental health at work. Two new workshops, Understanding Mental Health and Creating Psychologically Safe Workplaces have been added to the Steward Learning Series. The workshops were held 23 times in the fall, reaching about 550 members.
We also launched a transformative new weeklong human rights course. The course has already been offered in four regions and is motivating participants to become better allies for equality. Our equality-focused work also included developing 15 conference workshops with an anti-oppression lens for the National Human Rights Conference, as well as coordinating 33 facilitators. Topics included benefits, pensions, health and safety, precarious work, employment equity, and the impact of inequality and discrimination on our union's work.
A highlight of our new programs is a comprehensive new bargaining education program. 
In the lead up to the federal election, nearly 200 participants deepened their political activism through CUPE's new Using our Power at Election Time workshop. The one-day workshop was held eight times, and a two-day version ran four times.
This year, working with CUPE's International Solidarity officer, we piloted a new one-day International Solidarity workshop with the national and New Brunswick global justice committees. The workshop explores the root causes of inequality, austerity and privatization, and where we have the power to make a difference.
In 2015, 34 newly-trained member facilitators joined nearly 350 other facilitators. We are increasing the diversity of our facilitators across the country.  This year, we also selected and trained 24 new ombudspersons, the majority of them from equity-seeking groups.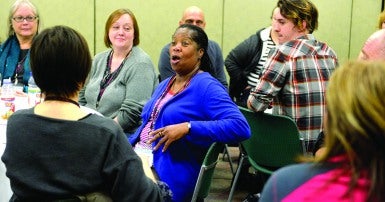 We also launched two new literacy resources. Transformations: Literacy and the Labour Movement – Past, Present, and Future, and Learning in Solidarity. Transformations is a book telling the story of literacy from a Canadian labour perspective. The Learning in Solidarity website documents the evolution of literacy training from the late 1800s to the labour movement's current work supporting members and strengthening workplaces.
At a time when federal funding cuts have closed most literacy organizations, these new resources help keep the history of literacy in Canada – and the role of unions in literacy work – alive.