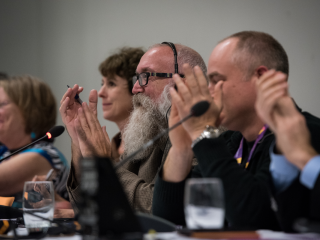 A panel discussion for CUPE post-secondary workers covered important issues facing the sector.
CUPE pension expert Kevin Skerrett and Janice Folk-Dawson, CUPE 1334 President at the University of Guelph, shared significant Ontario pension developments that could impact plans across the country.
The province wants to create a single-user pension plan framework that would waive solvency rules, and could be a model for other provinces. The framework opens the pension plan to members who aren't covered, and provides an opportunity to increase awareness of public sector pensions.
Panelist Éric Gascon talked about college workers' participation in Quebec's Common Front. The Common Front represents more than 400,000 workers across the province who are speaking with a collective voice in negotiations for a new contract.
In response to the province's demands for concessions, the Common Front has organized six days of rotating strikes. There are three more dates planned for December if the government does not respond.
CUPE 2051 President Marc Lévesque spoke about the importance of access to education in light of threats to close TÉLUQ, a distance learning school at the Université du Québec founded in 1972.
Distance education allows students to balance work, family and study; and complements standard university education. But Lévesque noted that students and staff require adequate support.
In addition to concerns about pensions, members also highlighted the chronic underfunding of post-secondary education during the discussion.
Special guest Benjamin Valbuena, National Chairperson of the Alliance of Concerned Teachers in the Philippines, talked about the impact of privatization and the struggles we share.
Delegates also discussed the resolutions coming before convention.