Danielle Savoie | CUPE Communications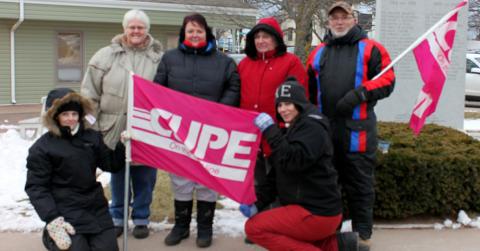 The members of CUPE 4893 are employees of the Town of Kensington in Prince Edward Island. They recei­ved an unwanted Christmas gift this year when during negotiations the town council locked them out!
"The lockout came as a shock to the local," said Stacey Delaney, CUPE National Representative. The local's collective agreement expired in April 2013. The local had five days of bargaining in May with no success. Following three days of conciliation, the matter was referred to a Board of Arbitration in October. "The outstanding issues were all related to equality and fairness for this group of employees, things like on-call pay for part-time police officers, wages and the duration of the contract," said Delaney.
Rather than come back to the table and try to resolve the issues, the town council declared a lockout three weeks before Christmas.
In a province where most public sector employees don't have the right to strike, a lockout is not a common occurrence. This was especially hard for the members of CUPE 4893 since it split the membership of 12 in two. Those walking the picket line included communica­tion technicians, public works employees and janitors. The six other members were police officers. They were classified as an essential service and obliged to work during the lockout.
The lockout sparked a wave of public support. "We received exceptional financial and moral support from the public, other CUPE locals, other unions and local organizations," said Delaney.
It quickly turned into a tug-of-war, when the town administrator said in the media that the lockout would be resolved when: "Either CUPE accepts our deal or council waivers and I don't think council is going to waiver."
Despite this, the local stayed strong and after seven days walking the picket line, an agreement was reached. "We signed a collective agreement with no concessions and we managed to negotiate on-call pay for our members. At the end of the day, it is the council that finally decided to come back to the table and negotiate," said Delaney.