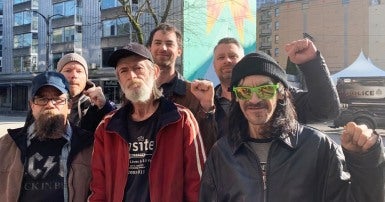 The representation vote held on March 9, 2020 by "Peer" harm reduction workers employed by the Portland Hotel Society (PHS) was finally counted, and the workers voted unanimously to join CUPE 1004. Peer workers at Insite, Washington Needle Depot, iOAT and overdose prevention sites in Vancouver's Downtown Eastside are instrumental in saving lives in the face of British Columbia's overdose public health emergency. Peers are employees with lived experience, similar to that of the participants and residents they serve.
"This is about respect and recognition," said Don Cumberland, who has worked at the Washington Needle Depot on East Hastings for almost 20 years. "I hope this means that the people doing the hard work on the ground saving lives every day will finally get the credit they deserve."
David Apsey, one of the main leaders of the union drive last March, sadly passed away in April 2020. He leaves a legacy of solidarity and strength for peer support workers. He will be remembered for his efforts to achieve for Peers the same protection as other PHS workers. "This is a long time coming," Apsey had said in March.
Ballots from the vote were sealed when PHS challenged union certification for peer employees. That process was adjourned because of the COVID-19 pandemic. With the vote now counted, it is expected that the Labour Board will issue the official certification this week.
"Our newest members do crucial life-saving work," said CUPE 1004 President Andrew Ledger. "The 100% YES vote demonstrates the strong solidarity of these workers. We are proud to welcome them into our union, and we look forward to working to include them in the provincial Community Health Collective Agreement."
The approximately 35 peer harm reduction workers will become members of CUPE 1004 that has represented employees of PHS since 1989. The local is a multi-sector composite local representing an array of public workers including employees of the City of Vancouver and the Vancouver Park Board.