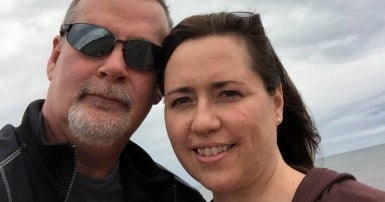 Sandra and Dave Conners have worked as educational assistants (EAs) in Miramichi, New Brunswick for over 40 years combined. The job's low wages, part-time hours and seasonal schedule means they and many other EAs have had to work multiple jobs to get by. Other EAs and school board workers report they had to depend on food banks.
That has now changed. Thanks to a pay equity settlement CUPE 2745 negotiated with the New Brunswick government in 2016, Sandra, Dave, and hundreds of other CUPE members working as EAs, student attendants, admin assistants, clerks, and rehab assistants—mostly women—are receiving significant pay increases.
Educational assistants, who were paid $17.99 an hour in 2012 will receive a total pay equity increase of $9.53 per hour over 10 years to 2022, in addition to general wage increases. Student attendants, who were paid $14.08 hourly in 2012 and also worked part-time and seasonal hours, will receive a total pay equity increase of $6.46 over 10 years, in addition to general wage increases.
CUPE's Job Evaluation (JE) staff worked with CUPE 2745 and the employer to achieve this settlement. While the process took many years to complete, pay equity adjustments will be phased in with retroactive payments dating back to 2012 and continuing for up to 10 years. These pay equity wage adjustments will make a big difference in the lives of some of the most underpaid and undervalued workers.
Pay equity is based on the principle that wages should reflect the value of a job regardless of which gender performs the work. Pay equity is largely meant to benefit women by reducing pay inequalities, while men working in these occupations also receive the wage adjustments. Workers' families and the community benefit as well.
"I worked multiple jobs my whole life," Dave says. "Though the extra pay is nice, it's even better to have recognition that our work has value. For a long time, it didn't feel that way. Thanks to local president Theresa McAllister and all the pay equity team this has changed somewhat. Though we still have a lot of ground to make up, we are certainly headed in the right direction."
Pay equity legislation applies to some workplaces across Canada, but not all. In addition to the federal government only six provinces—Ontario, Quebec, Manitoba, New Brunswick, Nova Scotia and Prince Edward Island—have enacted some form of pay equity legislation.
Three other provinces—British Columbia, Saskatchewan and Newfoundland and Labrador—haven't enacted legislation but have developed policy frameworks for negotiating pay equity with specific groups of public sector employees. Alberta is the only province without pay equity legislation or policy in place.
In most provinces, pay equity legislation and rules currently only apply to public sector employees and, in some cases, specific provincial employees. In Ontario and Quebec, pay equity applies to both public and private sector workplaces with more than 10 employees.
Whether required through legislation and policy or through negotiation, employers and union locals at individual workplaces may jointly decide to implement a job evaluation and pay equity process at their workplaces.
CUPE's JE process is designed to be implemented and administered jointly by employers and employees, and for those who are directly involved in the jobs to have direct input into the collection of job information used in the job analysis. Locals and employers can access CUPE's in-house expertise and evaluation tools at no cost – saving money compared to expensive private consultants. CUPE's JE staff also have invaluable advice to help ensure that job evaluation processes start on the right track and avoid pitfalls.
The group of pay equity specialists at CUPE may be small, but they can have a big impact in workers lives – just ask Sandra and Dave and other members of CUPE 2745.