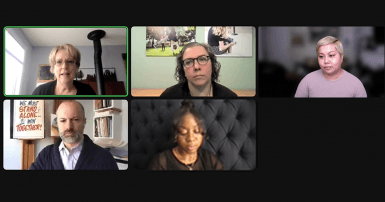 Parents, Early Childhood Educators and health experts released an open letter to Premier Ford and Ontario's opposition leaders calling for urgent action on child care as Omicron batters the sector.
"There has been a long and ongoing crisis in child care that has be fueled by the Ford government's inattention to child care and their inaction." said Carolyn Ferns, Policy Coordinator for the Ontario Coalition for Better Child Care at a virtual media conference to discuss the current state of child care in Ontario. "Nowhere is this clearer than in their failure to sign on to the federal child care plan which would give Ontario more than $10.2 billion in federal funding to address the child care crisis and move us to a better place."
Ferns was joined by Toronto city councillor, Mike Layton, Early Childhood Educator (ECE) Jess Tomas, Wendy LaRose of Toronto Parents for Child Care and Sheila Olan-Maclean, CEO of Compass Early Learning and Care.
Child care centres across Ontario are grappling with short staffing, no access to PCR testing, limited supply of N95 masks, and the erosion of reporting requirements, leading to serious safety concerns among workers, child care operators, parents, and health experts.
"The job that I once loved is completely unrecognizable. Working with unvaccinated and unmasked children, I am overwhelmed daily by the pressure to keep everyone safe," said Jess Tomas, ECE and member of CUPE 2484. "Now with Ford government reducing reporting that I relied on as a professional I am more unprotected than ever. The masks and the tests that were promised by the ministry, haven't been received."
Signatories on the letter are calling on Premier Doug Ford to immediately re-instate COVID-19 testing and case reporting in child care and to sign a federal child care deal. The deal must include $10-a-day care and a workforce strategy that includes a new minimum wage of $25/hour for child care and early learning workers to prevent the collapse of the child care sector.

Ontario remains the only province in Canada without a signed $10-a-day child care agreement with the Federal government.