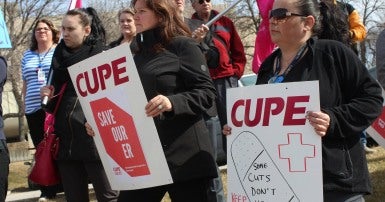 The Minister of Health has once again announced major changes to Manitoba's health care system. These changes will cause greater confusion and frustration within the health care system which is already facing government cuts and restructuring.
"Pallister is already assaulting our ERs, Urgent Care centres, and other hospital programs in Winnipeg, and now he wants to restructure the system province-wide? It's nothing short of reckless," said Shannon McAteer, CUPE Health Care Coordinator. "Causing widespread confusion and uncertainty in the health care system will hurt staff morale and will frustrate patients."
The provincial government has already imposed system-wide cuts in the form of forcing RHAs to find "savings", as well as hundreds of jobs cut from management positions. The new Provincial Health Organization will supposedly find even more "savings", but the government is unclear where those savings will come from or what front-line positions will be affected.
"The provincial government is playing a dangerous game with our health care system," said McAteer. "Playing shuffle-board with our health care programs is irresponsible."
Using the same Peachey Report they used to cut ERs and shuffle hospital programs around in Winnipeg, the government is now taking aim at Rural Health Authorities and province-wide programs with yet‑to‑be-determined cuts and changes. The government is unclear on what exact changes will be made to important services including Diagnostic Services of Manitoba Inc. and how these changes will affect staff.
"The government's approach to health care creates so much uncertainty and leaves health care providers and support workers with more questions than answers," said McAteer. "With so much being changed at once, we are deeply concerned that patient care, staff morale, and actual programming will be irreparably damaged."