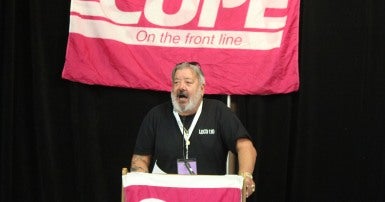 With the conclusion of the 41st Legislature, the Pallister government is willfully passing legislation that will disrupt health care, hurt working families, and will leave Manitobans with more questions than answers, says CUPE Manitoba.
"Pallister's government is willfully passing irresponsible and ill-conceived legislation that leave more questions than answers," says Terry Egan, President of CUPE Manitoba.
"This whole session the government has acted like amateurs by tabling ill-conceived legislation, and Manitobans will suffer because of it".
In a sitting that lasted past 3 am, the government passed legislation including Bill 28 (Public Services Sustainability Act) which imposes wage freezes on public sector workers, Bill 29 (Health Sector Bargaining Unit Review Act) which forces union representation votes in health care, and Bill 19 (Efficiency Manitoba Act) which carves PowerSmart out of Manitoba Hydro, among other legislation.
"Is Bill 28 constitutional? Is Bill 29 necessary? Is Bill 19 really efficient? We believe the answer to these questions is 'no'," said Egan.
"Rather than discussing these issues with workers, this government has neglected it's responsibility to negotiate, and has instead opted to push through reckless legislation just for the sake of pushing it through."
CUPE, along with the Manitoba Federation of Labour has expressed numerous concerns that Bill 29 will unnecessarily disrupt health care services, and that Bill 28 is unconstitutional because the government refused to meaningfully negotiate at the bargaining table.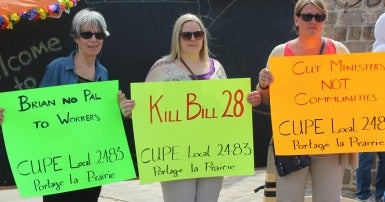 Bill 19 was filibustered by a Conservative MLA who, along with CUPE and Opposition parties raised concerns that the legislation was unnecessary.
The government also made sweeping changes to health care, including mandating significant cuts, closing ERs and other programs, cancelling important community funding, and more.
"The government uses their majority to pass all their legislation no matter what people say, but they should never forget that the people are watching, and we're taking notes," said Egan.
"We're putting this government on notice that if they continue on this path of cuts, reckless lawmaking, and lack of respect for dialogue, then they'll have more trouble down the road".