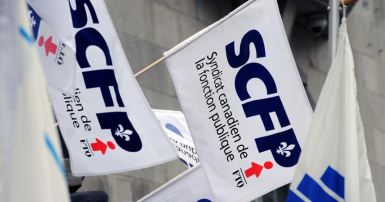 CUPE 301, the union representing the amalgamated outside workers in Montreal is proud to announce that its members, who work for the citizens of the Town of Baie-D'Urfé in the west part of Montreal Island, have signed the renewal of their collective agreement.
"We salute the respect that the Town of Baie-D'Urfé displayed to its outside workers and hope that the cordial relations that lasted throughout the bargaining sessions will continue in future years," said Jean-Pierre Lauzon, president of CUPE 301.
This five-year contract, which runs from 2022 to 2026, contains significant improvements to several facets of our members' working conditions, including a wage increase coupled with a re-evaluation of several positions, both of which will result in an actual increase ranging from 15.5% to 30.9%. Moreover, members will be paid a lump sum of about $2,140.
The new contract also includes improvements to the group insurance plan, the addition of a health account to complement group insurance, the establishment of a member-funded pension plan, an increase in the Town's contribution to the pension plan and a $300 annual allowance per member for cell phone use to ensure more effective communications.
"We wish to thank our bargaining team made up of Jean Duguay, Fayçal Bendhiba, Franz Elie and Nancy Plante. We hope that this agreement will serve as a template for our other accredited unions in the municipal sector," said Lauzon.