Mark Hancock | National President 
Since the earliest days of the pandemic, despite their rhetoric praising us as public service heroes, we knew that right-wing governments would eventually come for our jobs and the services we provide. We knew they would use pandemic spending as an excuse to cut back even deeper once the crisis subsided. And that is exactly where we find ourselves now. Nearly everywhere, governments are on the attack. 
From Newfoundland and Labrador all the way to Alberta, they aren't just looking to chip away at our public services. Whether it's health care or education, right-wing governments are trying to break them through understaffing and underfunding, and then claim only the private sector can fix them.
This is exactly the struggle our union was up against recently in Ontario, against Doug Ford's Conservative government. Our 55,000 members in the education sector were determined to fight for their first meaningful wage increase in many years, but the Ford government refused to negotiate a fair agreement. When these workers served notice to exercise their right to strike, Doug Ford responded with Bill 28, which imposed a new four-year contract with inadequate wages and concessions, and made strike action illegal, punishable by $4,000 fines per worker per day. It was the most draconian piece of anti-worker legislation I have ever seen.
But the very next day, our members courageously walked off the job anyway in a political protest, to demand their fundamental and constitutional rights as workers be respected. It was a true David vs. Goliath fight.
And in our hour of need, our union family was there for us. In an incredible show of solidarity, workers from public and private sector unions joined our protests in communities across Ontario. Messages of support poured in from across the country and around the world. And under the leadership of the Canadian Labour Congress, we planned escalating actions in all sectors of the economy — including a commitment to a general strike.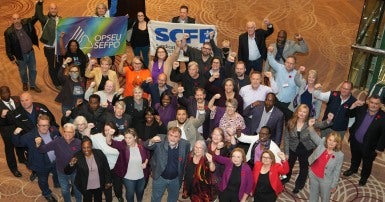 We were going to raise hell, and Doug Ford knew it. 
Bill 28 became law on a Thursday night and Doug Ford was at a microphone to announce he was walking it back first thing Monday morning. No government has ever scrapped its own legislation as quickly as Doug Ford did with Bill 28.
This story shows us just how fragile our rights are. And it also shows how powerful we can be when we fight together, and how vital it is for us to stand up and defend our bargaining rights. 
Because our collective power to bargain for better jobs and a better life for workers isn't just about us, it is also about preserving the foundational pillars of our society like universal health care and public education. 
Our members, and our movement, put Doug Ford and every other premier across Canada who might try and undermine our rights on notice: we are organized, and we are ready to fight.