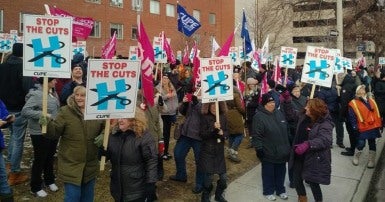 With patients in hallways and offices, and occupancy levels at Ottawa hospitals consistently at 100 per cent and some days spiking upwards of 120 per cent, the Ontario Council of Hospital Unions (OCHU) today called on the province to open at least 200 fully-funded and permanent beds at hospitals, Ottawa-wide. The beds are needed to recover capacity, ensure patient safety and alleviate the now constant strain from insufficient beds at area hospitals.
It's the Liberal government's fixation with a policy of few beds, few staff, very high bed occupancy and too low funding, that's causing serious capacity problems at Ottawa hospitals, OCHU president Michael Hurley says.
Overcrowding and a critical shortage of hospital beds that comes with this Liberal policy, "should not be accepted as the new normal," Hurley stresses. "We should not pretend that this overcapacity is a symptom of a virulent flu season. The issue is that too many beds and staff have been cut while the population has grown and gotten older. There is absolutely no surge capacity in the system and hospital staff from nurses to cleaners are working at an exhausting pace, because they have too many patients to care for."
Data shows that Ontario has the fewest hospital beds of any province in Canada and the fewest staff for those beds. Data shows hospitals in the other provinces are funded at 25 per cent more than Ontario hospitals. Over 18,000 beds have been closed in Ontario over the last few decades despite a growing and ageing population. The result is that, like in Ottawa, many Ontario hospitals are reeling from high bed occupancy rates and in many cases, are overcapacity for long periods of time with ad hoc patient beds being put in tub rooms, solariums, offices and emergency department hallways.
One Ottawa hospital is cancelling surgeries and another is asking people, some of who could be very sick to self-diagnose and opt to stay home. In what can only be described as an immense tragedy, a mentally ill inmate was on a waiting list for a bed at the Royal Ottawa Mental Health Centre when he hanged himself earlier this month, in his Ottawa jail cell.
"Ottawa's Liberal MPPs know full-well their government's policy to downsize hospitals is causing harm. It's incumbent on them to act and restore at least 200 permanent beds at Ottawa hospitals," says Hurley.
There are roughly 2000 patient beds between Ottawa's hospitals (Royal Ottawa, Ottawa Hospital, Bruyere, Queensway-Carleton, Montfort and the Children's Hospital of Eastern Ontario). Adding 200 permanent beds (about 10 per cent more beds) would bring the hospitals' bed capacity to 2200. A level high enough to deal with the surge in patients.
The Ontario Hospital Association (OHA) maintains in their 2017 pre-budget submission to government that hospitals have made $4.5 billion in budget cuts on behalf of the province. The OHA says the average occupancy has grown to more than 92 per cent at Ontario's hospitals. Studies show that bed occupancies upwards of 85 per cent are associated with greater risks for patients including higher risk of infection. Overcrowding also creates problems handling both emergency and elective admissions.
"Continuing to run our hospital system with no spare bed capacity, indeed at most times, over 100 per cent full, is the opposite of the 'first do no harm' principle that our health system is based on. Experts say capacity over 85 per cent is dangerous. How can patient safety be assured when hospitals are too full, and at between 100 and 120 per cent capacity?" Hurley asks.
Ontario's Financial Accountability Office estimates health care needs about a 5.3 per cent annual increase to meet basic costs, driven higher than inflation by drugs and medical technologies. OCHU is calling for at least a 5 per cent provincial funding increase for hospitals in 2017.