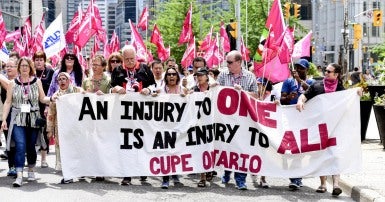 The refusal on the part of the Workplace Safety and Insurance Board (WSIB) to apply cost-of-living benefit increases as required by law for injured workers means devastating income reductions for already vulnerable Ontarians, says CUPE Ontario.
"Far too many injured workers are already on the economic edge thanks to years of failed policy by both the Ford Conservatives and the previous Liberal government," said Fred Hahn, President of CUPE Ontario. "The WSIB should immediately take steps to ensure benefit payments are keeping up with inflation – not reduce them while delivering $1.5-billion in rebates to employers, many of whom are seeing record profits during the pandemic."
CUPE Ontario, being the largest union in the province, with many members relying on workers' compensation, also represents 3,400 WSIB employees who are members of CUPE 1750.
The union opposed a recently-passed law that allows the WSIB to refund premium payments to employers anytime the fund reaches 115 per cent funding levels; and requires refunds anytime the fund reaches 125 per cent. Due to current funding levels, employers are set to receive refunds totalling $1.5-billion. Additionally, the Ford Conservatives amended legislation to cut workers' maximum insurable earnings by $5,492/yr.
"Meanwhile, we're seeing steadily reduced benefits to workers," said Harry Goslin, President of CUPE 1750. "Right now, we are at the bottom of Canada in percentage of non-government workers receiving coverage. The WSIB exists to support Ontarians who get sick or injured at work. And yet, during a pandemic, instead of shoring up the WSIB, instead of expanding supports to workers who showed up at their jobs and went home sick and injured, this government is delivering money to profitable businesses and failing to undo damaging cuts to worker benefits."