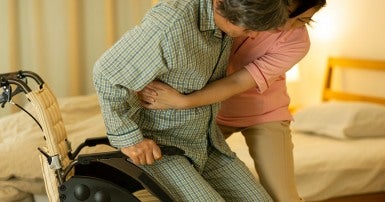 The Ontario government's move towards hiring a lower classification of workers in long-term care will have consequences for residents and workers. The announcement on Monday called on unemployed workers, including those displaced from the retail and hospitality sector to help out at long-term care homes.
"Seniors in long-term care have very complex conditions and require care from highly-skilled healthcare workers. Lowering requirements for staff and hiring people who have no training in seniors' care is a serious miscalculation," said Candace Rennick, secretary treasurer of CUPE Ontario. "It is unfair to residents and unfair to existing and new workers."
Rennick, herself a former long-term care worker, pointed out that about two-thirds of long-term care residents have been diagnosed with dementia. About 80 per cent of people with dementia experience behavioural or psychological symptoms.
The union is concerned that the government is not making meaningful investments in the sector. The latest budget announcement increased annual funding for long-term care by about 2.5 per cent (about $110 million) when estimates to reach a four-hour care standard range between $1.3 to $1.6 billion (a 40 per cent increase).
"The government's continuing with cost-containment and shifting to a lower-classification of workers who are lower-paid, when we need to boost funding and invest in a skilled workforce," she said.
The government's press release said that that RSAs will focus on "daily living activities" such as assisting people at mealtimes, and the coordination of visits and support with recreational activities. 
But Michael Hurley, president of the Ontario Council of Hospital Unions, said it was naïve to believe the essentially untrained staff will not wind up doing resident care. Plus, he said, it would place additional stress on personal support workers (PSWs) who won't get any respite during their shifts.
"The deconstruction of the PSWs work by taking away the non-care functions which provide some relief will simply add to their job stress and burnout. This will alienate the PSWs even more by creating another classification that does the lighter workload while they slog away with the heavier elements of the job," he said. 
The union has been calling on the government to initiate a comprehensive staffing strategy, which accounts for the needs of residents and workers alike. The government has indicated it will release a staffing strategy in December.
"We are already eight months into the pandemic and people are continuing to die from COVID, but also from neglect and lack of care. This is a bandaid strategy, not a meaningful solution," Hurley said. "There must be a strategy call for the massive recruitment of PSWs and a plan to work with community colleges to more intensely integrate the programs into the workplace.