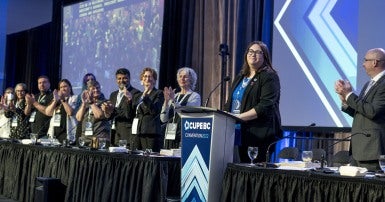 CUPE BC President Karen Ranalletta opened the union's 58th annual convention on Wednesday with a heartfelt message of gratitude for CUPE members' dedication to their communities during the global pandemic, also celebrating recent victories and committing the union's 104,000 members to defending public services in tough times. More than 500 delegates are registered to attend this year's convention, the first in three years to be held in person.
Ranalletta, elected at the union's virtual convention last year, began her first annual general meeting as president by recalling her upbringing as the daughter of Italian immigrants and how her experience as a precarious ESL instructor first led her to union activism. She thanked several mentors during her 15 years as a CUPE 2950 member at UBC.
One of the highlights of her first year as president, she told delegates, was working with a government that respects workers—demonstrated most recently by the introduction of Bill 10, which brings back single step certification, affirming workers' right to join a union.
"I put in a lot of work to ensure that we elect progressives who share the same values we do, and now I'm in a position to hold them accountable," said Ranalletta. "One of the best things about working with a labour-friendly administration in Victoria is that we can support the government, and also offer constructive feedback."
Ranalletta expressed deep gratitude for CUPE members' strength and resilience through multiple challenges of the pandemic, the toxic drug supply and overdose crisis, and the series of extreme weather events that devastated B.C. communities last summer and fall.
"Our members are committed to their communities in good times and bad, and there's no better example than the challenges we faced last year," she said, describing how CUPE members supported neighbours in crisis through record-breaking temperatures during the heat dome, including the wildfire that destroyed Lytton, and during catastrophic flooding that devastated Abbotsford, Merritt, and other communities.
"Members worked day and night to help their neighbours, despite suffering themselves. We are deeply grateful to you, for your selfless efforts on others' behalf."
Ranalletta also summarized some of the union's recent work to enshrine the principles of equity, diversity and inclusion in all its activities, including a recommitment to the goals of reconciliation with Indigenous people and new efforts to ensure safe and accountable spaces.
"I am so proud of our provincial executive board for their meaningful commitment to ensure that all members can participate in our union with as few barriers as possible," said Ranalletta.
"Friends, my politics will always, always be rooted in solidarity. We are one hundred and four thousand strong in this province, and the only way we win is when we stand together."
Ranalletta closed her address with some advice she received from former CUPE National President Judy Darcy.
"Always keep your focus on members. Change happens unevenly. Build alliances when you can," she recalled. "Those three principles are what ground me in my leadership."