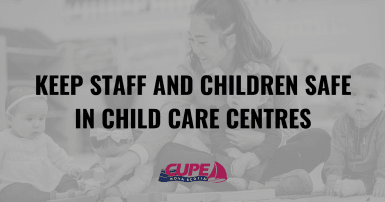 Nova Scotia Public Health and the provincial government are failing workers and children in child care centres, says CUPE, representing over 200 early childhood educators (ECEs) at not-for-profit and profit child care centres across the province.
"We sent a letter to Minister Becky Druhan yesterday asking for N95 respirators and rapid test kits (for staff and children), and to immediately reduce capacity in each classroom," says Margot Nickerson, early childhood educator and president of CUPE 4745. "We're tired of being forced to ask for these things over and over and being ignored."
"We understand updated guidance is forthcoming and we are asking that capacity in child care centres be immediately reduced to no more than 50 per cent and that it be applied to each 'classroom', not each 'centre'. They must stop enforcing that rule only by 'centre'," explains Nickerson. "While one classroom may have five children, another may have 20 children and the need for reduced capacity is not actually being met."
"Also, many of these classrooms do not have windows or the proper ventilation to help reduce airborne transmission," says Nickerson. "Will child care centres be outfitted with HEPA filtration systems like schools are receiving?"
"It's unbelievably stressful to be an early childhood educator in Nova Scotia these days, and it's unfair that the safety of other workers in the education system seem to be taken seriously while our ECE members' safety is not," says Naomi Stewart, CUPE child care sector coordinator in Nova Scotia. "The province has also refused to report COVID case numbers in child care centres, creating a false sense of security in that there are no COVID cases in child care centres. There definitely is and the public is not being told."
"Child care workers are being put in a very difficult position by this government," says Nan McFadgen, president of CUPE Nova Scotia. "They are working with young children who cannot be vaccinated yet. With staffing levels in our child care centres already at critical levels, we need to do everything we can to protect these workers and the children in their care."
As the omicron variant continues to spread across Canada, the country's top doctors have recognized the airborne spread of the virus and called for the increase in usage of respirator type masks such as N95s, to effectively protect against transmission of the virus. Currently, child care workers in Nova Scotia are not being provided with this type of protection.
"Workers in child care centres are heroically battling on the front lines. While workers in other sectors enjoy summer and Christmas holidays, we must go to work," says Nickerson. "We don't need Premier Houston's thanks and gratitude. We need immediate action to keep staff and children safe."