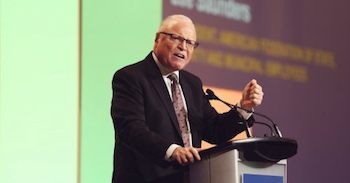 It would be an understatement to say that CUPE members at the National Sector Council conference were fired up by the inspiring speech by Brother Lee Saunders, president of AFSCME, the American Federation of State, County and Municipal Employees. 
As the largest affiliate in AFL-CIO, with 1.6 million members, Saunders said that AFSCME considers itself to be "the baddest and the boldest" union in the United States – and extended the compliment to CUPE in the Canadian context. He brought a message of solidarity and activism as we work on strategies to move our unions and our countries forward.
Saunders acknowledged CUPE's help in successfully fighting a 40 per cent cut to pension income for AFSCME retirees in Detroit.  And he thanked CUPE for what National President Paul Moist called a "random act of solidarity," when he and other CUPE activists crossed the Ambassador Bridge from Windsor into Detroit to protest the water shutoffs.
Noting CUPE's solidarity in Wisconsin, Saunders said, "It's personal for us, because Wisconsin is where AFSCME was born."  He talked about AFSCME organizing around November elections and got thunderous applause when he promised to get rid of Governor Scott Walker.
AFSCME will have 40,000 volunteers getting the vote out in November. "We will do anything and everything we can to defeat every single politician who is out to steal our rights and our dignity," he said.
Saunders was clear that while political action is important, it is not enough to push back on the anti-worker, anti-union forces who try to pit working people against each other.  AFSCME has also gotten back to the basics of organizing, by training 800 volunteer member organizers who have had enormous success in bringing in new members.
On the need to have a plan and take the long view to building strength and solidarity Saunders said "we aren't the labour moment, we're the labour movement."
Saunders closed, putting on a CUPE T-shirt and leading participants in a rousing chant "We will win!"