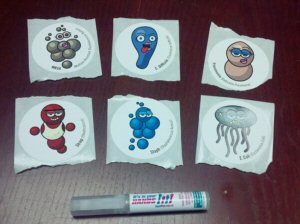 New Glasgow – CUPE hospital workers will be handing out free hand sanitizers at the Come Home Week festivities in Guysborough this Saturday, to raise awareness about Healthcare Acquired Infections (HAIs), often referred to as "Superbugs". HAIs are the fourth leading cause of death in Canada.
Under the campaign slogan "Help hospital workers fight Superbugs! It's in Your Hands", CUPE hospital workers are handing out tens of thousands of free hand sanitizers at public events all summer, as well as literature on how the public can avoid superbugs through simple hand-washing and other measures.
They are also handing out stickers and tattoos of cartoon microbes for children to illustrate the importance of good hand washing at every age.
Following the Guysborough event, CUPE hospital workers will be bringing the Superbugs tour to New Glasgow's Riverfront Jubilee, August 2.
A full schedule of CUPE's HAI Tour can be found online at countmein.cupe.ca.