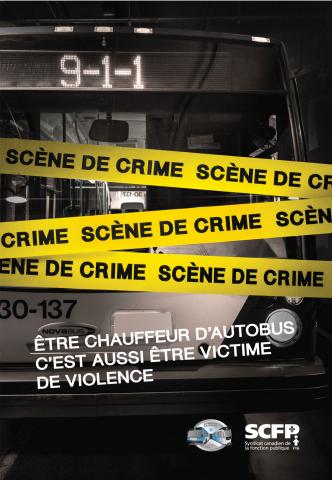 All workers have the right to a healthy and safe workplace, and in 2013 CUPE worked to defend and expand these rights through member education, training, research, and advocacy.
Montreal bus drivers became moving billboards as part of their campaign against on-the-job violence. The members of CUPE 1983 swapped their uniforms for t-shirts with the slogan Notre sécurité, votre sécurité (Our safety is your safety). Transit ads helped drive home their demand, and the drivers won a major victory in mid December when the transit authority agreed to install surveillance cameras on all its night buses by 2015.
Ontario hospital workers won an important asbestos fight in February, when the Pembroke Regional Hospital pled guilty to charges of violating the Occupational Health and Safety Act. CUPE 1502 maintenance workers were told to work on asbestos containing materials, with no protective equipment. The local filed a complaint, and persisted until charges were laid.
In Nova Scotia, CUPE is helping members find effective ways to take on workplace violence. CUPE also analyzed the health and safety implications of Saskatchewan's anti-labour Bill 85, and participated in reviews of workers' compensation systems in Newfoundland and Labrador and Ontario, as well as of Manitoba's Workplace Health and Safety Act.
CUPE 4705 and the City of Sudbury, with support from the Occupational Health Clinics for Ontario Workers, worked to develop an important new online resource for paramedics aiming to prevent work-related back injuries.
CUPE is also studying the hazards of working alone, starting with an online survey of members. By the end of 2013, the survey had more than 4,000 responses. CUPE's National Health and Safety Committee will use the information to identify ways to protect CUPE members from the added risks of working alone.