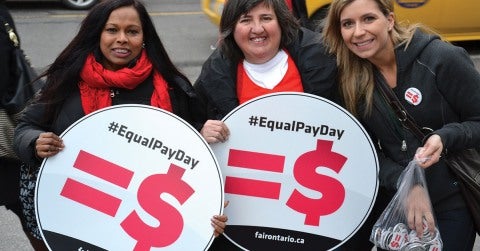 Montreal's inside municipal workers celebrated the end of a 12-year campaign against wage discrimination in August, when the city announced it would not appeal a ruling of the province's pay equity commission. The commission's ruling agreed with CUPE 429 that all workers were entitled to adjustments under provincial pay equity laws.
CUPE members are also among the thousands of Quebec health and education workers who will be getting a pay raise and retroactive wages, following the settlement of pay equity complaints filed in 2009.
Less than a year after joining CUPE, casual workers with the City of Gatineau, Quebec are sharing in a recent pay equity adjustment, with hundreds of members getting pay raises of between five and 31 per cent.
CUPE also achieved significant pay equity settlements at the Kingston Public Library, the Winchester Hospital and in Peel Region, with 5,000 CUPE members sharing nearly $10 million in new pay equity adjustments.