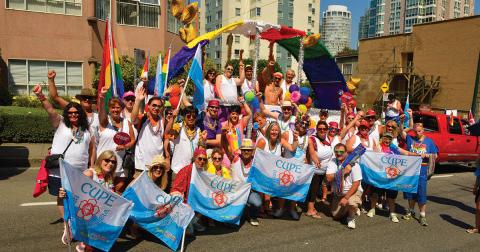 In November, CUPE celebrated a historic win for lesbian, gay, bisexual, transgender, transsexual and intersex people's rights in Canada. Audrey Gauthier was elected president of CUPE 4041, representing Air Transat flight attendants based in Montreal, becoming the first openly trans person elected president of a union local in Canada.
CUPE also continued its work to name and end transphobia. The Equality Branch developed a new digital poster presentation on the harassment and discrimination transgender and transsexual members face on the job and accessing health care. A delegation of members shared it at the Outgames human rights conference in Antwerp in August.
In Manitoba, CUPE supported Bill 18, new anti-bullying legislation that provides LGBTTI youth a safe place at their schools. CUPE members were at a rally in support of Bill 18 on May 16, and spoke in support of the bill at committee hearings in September.