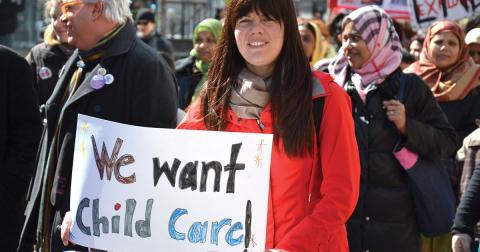 CUPE is a major contributor to the popular Let's rethink child care campaign. Ten unions have joined with allies in the child care and student movements to make child care a pivotal issue in the next federal election. The campaign brings people together in kitchen table-style conversations about their experiences finding or affording child care.
CUPE has hosted over 50 events, reaching thousands of CUPE members, and recording 15 videos of people telling their stories. This storytelling helps people realize child care is not an individual problem, and builds support for our call for government action.
In Nova Scotia, a CUPE-commissioned poll showed 87 per cent of Nova Scotians believe it's important for governments to help families meet their child care needs. The poll was released during International Women's Week, reinforcing that affordable child care is central to women's equality. The poll also found three-quarters of those surveyed agree child care workers are underpaid for their work and level of responsibility.