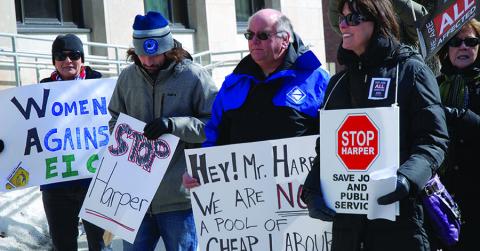 Our members were out in force challenging the Harper Conservatives' cuts to Employment Insurance, with mounting protests in New Brunswick, Nova Scotia, Quebec, PEI and Newfoundland and Labrador.
CUPE is a major force behind the campaign against the EI cuts in the Maritimes. On Valentine's Day, representatives of the PEI Coalition for Fair EI delivered a Valentine to Conservative cabinet minister Gail Shea, asking her to have a heart and scrap the EI changes.
In Quebec, thousands of people took part in demonstrations across the province in February. A broad coalition against the cuts to EI united unions, provincial municipal organizations, agricultural producers, rural groups, unemployed workers' groups, and other citizens against the federal Conservative cuts.