CUPE's new poster for International Women's Day is now available. We invite you to order your free poster now to use at union, workplace and community events.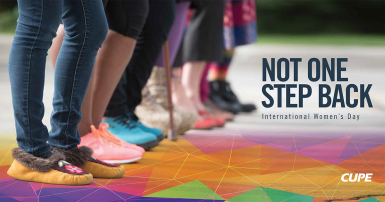 The poster shows women from different communities united, advancing together in the fight for gender justice. Women who are Indigenous, racialized, and LGBTTI, and women with disabilities, face additional barriers and violence in our workplaces and society. They have raised the bar on human rights and continue to lead social movements in Canada and globally. Through this poster, we recognize their leadership and commit to advancing gender rights for all women. Following the recent US election, it is especially important for us to be vigilant and fight any attempts to roll back the progress being made to advance women's rights around the world.
CUPE recognizes the Spanish union STES-i (Sindicatos de Trabajadoras y Trabajadores y de la Enseñanza intersindical) for creating a feminist poster that inspired ours.