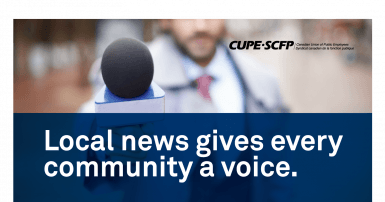 Quebec's Provincial Council for the Communications Sector [Conseil provincial du secteur des communications – CPSC] has unveiled a hard-hitting report on the lack of media presence in Quebec's regions. This document, prepared by Influence Communication, takes stock of the disturbing state of local information.
The unveiling of the study is part of CUPE's "Les nouvelles locales : un service essentiel" [Local news: an essential service] campaign.
One of the study's main findings is that television is becoming a purely national media and a negligible player in local information. Only 5 per cent of local news broadcast in Quebec comes from television. However, TV generates 13 per cent of all news in Quebec, across all sectors.
The weekly press generates 26 per cent of local content on average. In 7 of the 17 regions studied, weekly newspapers were the top source of local information. Their future as a bulwark of local information is in question, however, now that Transcontinental has put its papers up for sale.
"Our analysis shows that local Internet information comes largely from radio, television and newspapers. If the weeklies and the regional stations disappear, the web content they provide will vanish as well," explained Alain Caron, Chairman of the CPSC.
The first part of this analysis demonstrated that turnout at municipal elections is related to the amount of local news available. Also, in the 2015 Federal election, only 1.78 percent of media coverage in Quebec focused on regional issues and local candidates.
"Regional media and local news are barometers of the health and vitality of the regions. Stopping this decline is essential to their democratic and economic health. Federal Minister Mélanie Joly and Provincial Minister Luc Fortin urgently need to take corrective action," said Caron.
CUPE represents some 7,700 members in the Quebec communications sector, working in the following companies: Groupe TVA, the NFB, RNC Media, Shaw Media (Global), CIMF‑Gatineau, CKOBA‑Trois‑Rivières, Telus Québec, Vidéotron, Cogeco, Technicolor, the SETTE, and the Journal de Québec.
The CPSC is a sectoral group of CUPE, which has more than 110,000 members in Quebec.