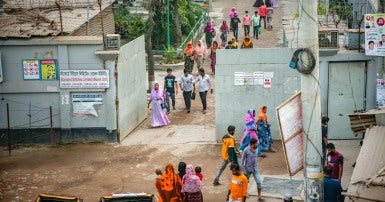 April 24 is the 10th anniversary of one of the world's worst industrial disasters. The collapse of the Rana Plaza building killed 1,132 garment workers and injured more than 2,500 in Dhaka, Bangladesh.
In solidarity with the labour movement in Bangladesh, we stand with Canadian unions and civil society organizations demanding better working conditions and respect for garment workers' rights.
CUPE joins Canadian unions calling on the Canadian government, and international clothing corporations, to take action and prevent a disaster like this from ever happening again.
Sign the petition calling on major international brands to sign the International Accord for Health and Safety in the Textile and Garment Industry, ensure workplace safety, and recognize the rights of workers to organize, refuse unsafe work and raise health and safety concerns.